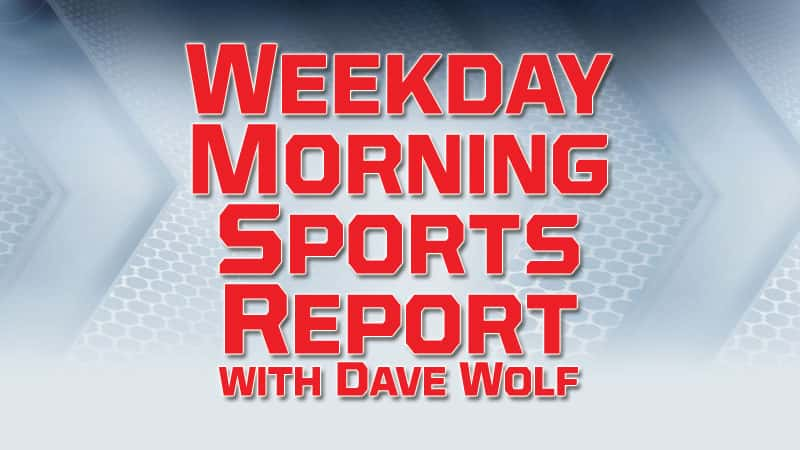 NFL – Lions hire Darrell Bevell as offensive coordinator
The Detroit Lions have hired Darrell Bevell as their new offensive coordinator. Bevell spent seven seasons as Seattle's offensive coordinator from 2011-17 and was part of a Super Bowl winner with the Seahawks. Prior to joining the Seahawks, he was Minnesota's offensive coordinator for five seasons and a quarterbacks coach for Green Bay. Bevell was fired by Seattle in a coaching shakeup following the 2017 season, after the Seahawks went 9-7 and missed the playoffs. Although Bevell was part of a victory in the Super Bowl after the 2013 season, he also infamously called for a pass at the 1-yard line in the final minute of the following year's Super Bowl. Malcolm Butler of New England intercepted it, costing Seattle a chance at a second straight title. Matt Patricia, who was the defensive coordinator for the Patriots in that game, is now Detroit's head coach.
NFL – Brown not in contact with Steelers
The Pittsburgh Steelers are still waiting to hear from wide receiver Antonio Brown.  Team president Art Rooney II says he's still not sure what led the perennial Pro Bowler to walk out on the team before the season finale. The Steelers benched Brown for their victory over Cincinnati, and he did not show up to clean out his locker after the team missed the playoffs.  Rooney says the team has "left everything open" in regards to Brown's future.
NBA – National Basketball Association
Last Night
Detroit Pistons 120, Orlando Magic 115 – OT
Pistons 120, Magic 115 – OT – Griffin scores 30, leads Pistons past Magic 120-115 in OT
Blake Griffin scored 30 points to lead the Detroit Pistons to a 120-115 overtime victory over the Orlando Magic on Wednesday night. Andre Drummond added 14 points and 21 rebounds for the Pistons, who won for the third time in 11 games. Detroit had six players with at least 13 points.  Nikola Vucevic and Terrence Ross each scored 24 points for Orlando, which had won two in a row after a four-game losing streak.  Detroit led by as many as 11 in the fourth quarter, but Vucevic helped pull the Magic within 105-104 with 3:23 to play and tied it at 107 with 2:14 to go.
Tonight
Philadelphia 76ers at Indiana Pacers, 7:00 p.m.
Chicago Bulls at Denver Nuggets, 9:00 p.m.
NCAAMBB – Men's College Basketball
Tonight
(6) Michigan State at Nebraska, 8:00 p.m.                Superhits 103.7 Cosy-FM 7:00
NHL – National Hockey League
Tonight
Chicago Blackhawks at New York Rangers, 7:00 p.m.
NHL – No 2020 vision of World Cup
The NHL and the Players' Association have given up on the possibility of staging the next World Cup of Hockey in September 2020.  The sides met Wednesday in Toronto to discuss the World Cup as part of collective bargaining talks after meeting last week in Las Vegas. Owners or players could choose this September to opt out of the current collective bargaining agreement and end it Sept. 15, 2020. The current CBA runs until 2022 unless one side chooses to terminate it early.
NCAAFB – Hurts leaving Alabama for Oklahoma
Oklahoma has found a replacement for reigning Heisman Trophy winner Kyler Murray. Jalen Hurts says he is leaving Alabama and transferring to Oklahoma, making the announcement in a story in the Players' Tribune. He will be available immediately as a graduate transfer.  Hurts was a two-year starter who led Alabama to a pair of national championship games and was Southeastern Conference offensive player of the year as a freshman. Hurts left Alabama with 5,626 yards and 48 touchdowns passing and 1,976 yards and 23 touchdowns rushing.

NCAAWBB – Women's College Basketball
Last Night
(1) Notre Dame 80, Virginia Tech 51
Eastern Michigan 72, Akron 60
Miami (OH) 70, Central Michigan 67
Toledo 80, Western Michigan 57
(1) Notre Dame 80, Va Tech 51 – Shepard, big run lift No. 1 Notre Dame past Hokies, 80-51
Jessica Shepard had 20 points and 11 rebounds and No. 1 Notre Dame took command with a 24-1 run in the second quarter to beat Virginia Tech 80-51 on Wednesday night. Arike Ogunbowale added 19 points for the Fighting Irish (17-1, 5-0 Atlantic Coast Conference). The Irish trailed 24-18 before Marina Mabrey sparked the run with her third 3-pointer of the first half. The burst took just six minutes and ended with Notre Dame ahead 42-25. Taylor Emery had 15 points and Trinity Baptiste had 11 points and 15 rebounds for Virginia Tech. The Hokies had lost their first three conference games by a combined 13 points.
Tonight
(9) Maryland at (17) Michigan State, 6:00 p.m.
Michigan at (22) Iowa, 8:00 p.m.
Tennis – Pliskova tested by Brengle
Fifth seed Madison Keys is through to the third round of the Australian Open. The 2017 U.S. Open runner-up was a 6-3, 6-4 winner against Anastasia Potapova. Keys next faces No. 12 Elise Mertens, who won her second-round match in straight sets. Unseeded American Madison Brengle had put herself in position to advance to the third round before Karolina Pliskova found her game. Brengle won her opening set before the seventh-seeded Czech rallied for a 4-6, 6-1, 6-0 victory. Pliskova is joined in the third round by sixth seed Elina Svitolina, who won in straight sets.  Kei Nishikori has moved into the third round on the men's side with a five-set win against Ivo Karlovic.  Play was suspended briefly on all courts for about a half-hour following rain showers.
Costas leaving the Peacock
NBC Sports says Bob Costas is leaving his longtime broadcast home, though the network provided no further details on his exit. A representative for the 66-year-old Costas didn't immediately respond to a request for comment.  Costas' departure comes two years after he stepped down as NBC's prime-time Olympics host. Costas served as the emcee for NBC's Olympic coverage 11 times starting in 1992. In early 2017, he stepped aside for network newcomer Mike Tirico.
MLB – Reds broadcaster Marty Brennaman will retire after 2019
Reds play-by-play broadcaster Marty Brennaman will retire after the 2019 season, his 46th in Cincinnati. The team made the announcement Wednesday. The 76-year-old Brennaman joined the Reds' radio team in 1974 and soon became known for his sign-off line after each win: "And this one belongs to the Reds." He and former Reds pitcher Joe Nuxhall shared the booth for 31 seasons from 1974-2004. He received the Ford C. Frick Award in 2000 at the Baseball Hall of Fame, the fourth Reds announcer to receive the broadcasting award along with Red Barber, Al Helfer and Russ Hodges. Brennaman also has worked NCAA Tournament games, including 11 Final Fours. His son, Thom, also is a Reds broadcaster. On Tuesday, longtime Pittsburgh Pirates announcer Steve Blass said this season will be his last. This will be his 34th year as a color analyst.
AHL – American Hockey League
Last Night
Chicago Wolves 5, Grand Rapids Griffins 2
ECHL – ECHL Hockey
Last Night
Kalamazoo Wings 10, Fort Wayne Komets 8
MCCAA – Junior College Basketball
Last Night
Women's Basketball
Lake Michigan College 81, Jackson Community College 74
Delaney Basker poured in a game high 21 points to help lift Lake Michigan College to an 81-74 win over Jackson Community College.  Samantha Jenkins added 16 as the Lady Red Hawks improve to 12-4 on the season and 4-1 in the MCCAA West.
Men's Basketball
Jackson Community College 83, Lake Michigan College 69
Lake Michigan College dropped an 83-69 decision to Jackson Community College.  After building a 12 point lead early, the Red Hawks held on for a one point advantage at halftime.  The Jets came out hot after the intermission to lead by as many as 15.  Sheddrick Porter scored a game high 21 points in the loss for LMC.
MHSAA – High School Sports
Last Night
Wrestling
Lakeshore 58, Portage Northern 21
Portage Central 34, St. Joseph 24
Niles 52, Mattawan 18
Allegan 42, Otsego 39
Dowagiac 60, Three Rivers 22
Edwardsburg 66, Three Rivers 11
Edwardsburg 52, Sturgis 19
Dowagiac 51, Sturgis 24
Plainwell 41, Paw Paw 27
Paw Paw 42, Vicksburg 29
South Haven 35, Vicksburg 33
South Haven 39, Plainwell 36
Competitive Cheerleading
Wolverine Conference Jamboree at Plainwell
1. Paw Paw (748.50)
2. Sturgis (691.92)
3. Plainwell (652.22)
4. Allegan (636.10)
5. Edwardsburg (616.50)
6. Otsego (605.36)
7. Vicksburg (594.76)
8. Three Rivers (552.20)
9. Dowagiac (525.50)
10. South Haven (521.76)
Tonight
Girls Basketball
Michigan Lutheran at Lawrence, 7:00 p.m.
Berrien Springs at Buchanan, 7:00 p.m.
Comstock at Bridgman, 7:30 p.m.
Parchment at Brandywine, 7:30 p.m.
Battle Creek Calhoun Christian at White Pigeon, 6:00 p.m.
Boys swimming and diving
Coldwater at St. Joseph, 6:00 p.m.
Portage Central at Bridgman/Lakeshore, 6:00 p.m.
Mattawan at Kalamazoo Central, 6:00 p.m.