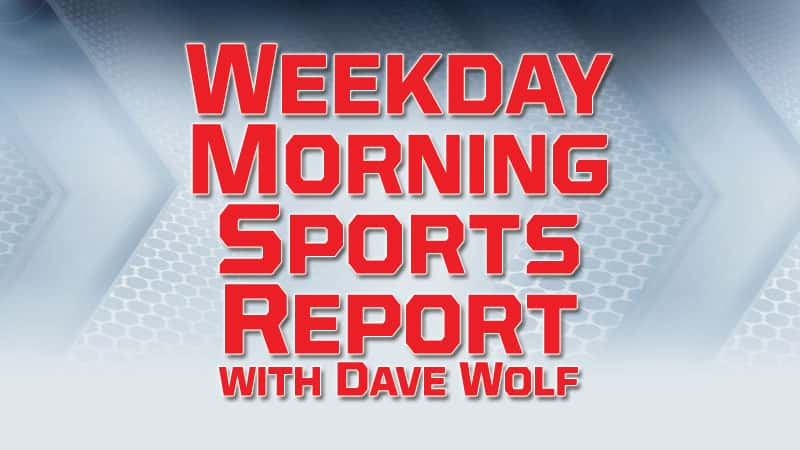 NCAAMBB – Men's College Basketball
Last Night
Syracuse 95, (1) Duke 91 – OT
Syracuse 95, (1) Duke 91 – OT – Battle, Syracuse upset No. 1 Duke 95-91 in OT
Syracuse held Duke to 2-of-8 shooting in overtime and to just 21 percent shooting from 3-point range in a 95-91 victory over the top-ranked Blue Devils. Tyus Battle scored a season-high 32 points for the Orange, who used a 2-3 zone to befuddle Duke on its home court. Paschal Chukwu added 10 points and a career-high 18 rebounds, while Elijah Hughes added 20 points. Zion Williamson had a career-high 35 points and 10 rebounds, and his free throw with 16.2 seconds left in regulation tied it at 85 for Duke. The night took an ominous turn for the Blue Devils when starting point guard Tre Jones suffered a right shoulder injury before the first TV timeout.
Tonight
(16) Buffalo at Western Michigan, 7:00 p.m.
Eastern Michigan at Akron, 7:00 p.m.
Central Michigan at Northern Illinois, 8:00 p.m.
Notre Dame at (13) North Carolina, 9:00 p.m.
NHL – National Hockey League
Last Night
New Jersey Devils 8, Chicago Blackhawks 5
Devils 8, Blackhawks 5 – Palmieri scores 2, Devils tally 8 in routing Blackhawks
Kyle Palmieri and Blake Coleman each scored twice, and the New Jersey Devils had their biggest offensive game of the season, an 8-5 victory over the struggling Chicago Blackhawks on Monday night. Travis Zajac, Sami Vatanen, Kevin Rooney and Brett Seney also scored as the Devils won consecutive games for only the third time since opening the season with four straight wins. Rookie goaltender Mackenzie Blackwood won for the fifth time in seven decisions. Patrick Kane scored twice and set up two others for the Blackhawks. Brent Seabrook, Dominik Kahun and Brandon Saad also scored for Chicago, which left goaltenders Cam Ward and Collin Delia defenseless most of the game in giving up at least seven goals for the fifth time this season. The eight goals against tied the most given up by the Blackhawks this season.
Tonight
Anaheim Ducks at Detroit Red Wings, 7:30 p.m.
NBA – National Basketball Association
Last Night
Utah Jazz 100, Detroit Pistons 94
Jazz 100, Pistons 94 – Gobert grabs 25 rebounds as Jazz beat Pistons 100-94
Donovan Mitchell scored 28 points and Rudy Gobert tied a career high with 25 rebounds to propel the Utah Jazz past the Detroit Pistons 100-94 on Monday night. Kyle Korver had 19 points, including five 3-pointers, to help the Jazz win for the sixth time in seven games. Gobert finished with 18 points and two blocks. Mitchell has poured in at least 26 points in six consecutive games, the best such stretch of his career. Utah has won five straight against the Pistons and 22 of 26. Blake Griffin scored 19 points and Andre Drummond contributed 15 points and 13 rebounds for Detroit, which has lost five of six.
Tonight
Phoenix Suns at Indiana Pacers, 7:00 p.m.
Chicago Bulls at Los Angeles Lakers, 10:30 p.m.
NCAAWBB – Women's College Basketball
Last Night
Ohio State 65, (23) Michigan State 55
Ohio State 65, (23) Michigan State 55 – Santoro reaches 1,000 career points, Ohio State women win
Carly Santoro scored a season-high 25 points to reach the 1,000-career plateau and Ohio State beat No. 17 Michigan State 65-55 on Monday night. Ohio State had its 15-point, second-half lead cut to six points with 53.8 seconds left when Jenna Allen was left open for a 3-pointer to cap a 6-0 run. But the Buckeyes made eight straight free throws from there to seal it. Dorka Juhasz and Janai Crooms each scored 10 points and Makayla Waterman grabbed 10 rebounds for Ohio State (6-8, 2-3 Big Ten), which has won back-to-back games against ranked teams following a five-game losing streak. Santoro entered needing nine points to reach the milestone. Santoro and Juhasz each made seven free throws as Ohio State was 22 of 34 compared to Michigan State's 13 of 23.
NFL – Coliseum Authority to get update on Raiders lease
The Coliseum Authority will meet Friday to get an update on the possibility of whether the Raiders could stay in Oakland another year. Authority executive director Scott McKibben said he will update the board in closed session on where things stand between the Raiders and the Coliseum following a lawsuit filed by the city of Oakland against the team and the NFL last month. No Raiders officials will be present. The Raiders had pulled their $7.5 million lease offer for 2019 off the table following the lawsuit, but owner Mark Davis later said all options remain for where the team will play its final season before moving into a new $1.8 billion, 65,000-seat stadium in Las Vegas in 2020. McKibben said he has been in touch with Raiders president Marc Badain and told him the board is willing to meet after the team has done its due diligence into other sites. The Bay Area News Group reported that the team will meet with the authority, but McKibben said nothing has been scheduled yet. The Raiders have had talks with the San Francisco Giants about sharing their ballpark, could share Levi's Stadium with the 49ers or try to find a stadium in another market.
NFL – Murray enters NFL draft
Will it be the NFL, the Oakland Athletics or both for Kyler Murray? The reigning Heisman Trophy winner has announced he's leaving Oklahoma early to enter the NFL draft. He passed for 4,361 yards and 42 touchdowns and ran for 1,001 yards and another 12 scores this past season.  The A's made the speedy outfielder the ninth overall selection last June, signed him and gave him a $4.66 million signing bonus. The Athletics agreed to let him continue playing football, and he made the most of it by winning the Heisman in his only season as a starter for the Sooners.
NFL – Arctic blast due to hit KC for AFC championship game
Break out the parkas for Sunday night's AFC title game at Arrowhead Stadium. The National Weather Service is projecting an arctic blast to settle over Kansas City for the Chiefs' game against the New England Patriots. Temperatures at kickoff could range from 10 degrees to well below zero, potentially making it the coldest game in Arrowhead Stadium history. Twice it has been 1 degree at kickoff, including a December 2016 game against Tennessee. Both teams are accustomed to cold, inclement weather, though. The Chiefs experienced some of it this past weekend, when heavy snow blanketed Kansas City and knocked out power to thousands of people. The snow stopped just before kickoff, though, and the field was in good shape for their 31-13 victory over the Colts.  The wind chill was in the teens for the Patriots' win over the Los Angeles Chargers on Sunday.
Tennis – Day 2 at Australian Open
Serena Williams and Madison Keys have won their opening-round matches at the Australian Open. Williams dropped just two games in her match, her first at Melbourne since she was pregnant while winning the title in 2017.  The 17th-seeded Keys began the Day 2 schedule at Laver Arena by winning in straight sets. She's joined in the second round by seventh seed Karolina Pliskova and 12th seed Elise Mertens American Ryan Harrison advanced to the second round on the men's side with a straight-sets victory, but countryman Sam Querrey was knocked out in four sets. Kei Nishikori rallied from two sets down and won 10 consecutive games before his opponent retired with the score at 3-6, 6-7 (6), 6-0, 6-2, 3-0.
MHSAA – High School Sports
Last Night
Boys Basketball
Buchanan 59, Constantine 51
Decatur 52, River Valley 36
Howardsville Christian 81, Grand Rapids Wellspring  40
Girls Basketball
Buchanan 44, New Buffalo 30
Tonight
Boys Basketball
Benton Harbor at Coloma, 7:15 p.m.               95.7 & 1400 WSJM Sports
St. Joseph at Mishawaka (IN), 7:30 p.m.          WSBT AM 960 & FM 96.1
Lakeshore at Edwardsburg, 7:15 p.m.
Niles at Dowagiac, 7:15 p.m.
South Haven at Fennville, 7:00 p.m.               Superhits 103.7 Cosy-FM
Otsego at Portage Northern, 7:15 p.m.
Sturgis at Battle Creek Lakeview, 7:00 p.m.
East Lansing at Loy Norrix, 7:15 p.m.
Saugatuck at Allegan, 7:00 p.m.
Berrien Springs at Plainwell, 7:15 p.m.
Vicksburg at Schoolcraft, 7:15 p.m.
River Valley at Countryside, 7:00 p.m.
Michigan Lutheran at Covert, 7:30 p.m.
Comstock at Gobles, 7:00 p.m.
Lake Michigan Catholic at Lawrence, 7:30 p.m.
Howardsville Christian at New Buffalo, 7:30 p.m.
White Pigeon at Bangor, 7:30 p.m.
Mendon at Marcellus, 7:30 p.m.
Hartford at Bloomingdale, 7:30 p.m.
Centreville at Cassopolis, 7:30 p.m.
Eau Claire at Decatur, 7:30 p.m.
Galesburg-Augusta at Kalamazoo Christian, 7:00 p.m.
Kalamazoo Hackett at Lawton, 7:00 p.m.
Delton-Kellogg at Martin, 7:00 p.m.
Girls Basketball
Lakeshore at Edwardsburg, 6:00 p.m.
Benton Harbor at Mattawan, 7:00 p.m.
Berrien Springs at Niles, 7:00 p.m.
Portage Northern at Otsego, 7:00 p.m.
Loy Norrix at Parchment, 7:00 p.m.
Three Rivers at Gull Lake, 7:15 p.m.
East Lansing at Kalamazoo Central, 7:00 p.m.
Battle Creek Lakeview at Sturgis, 7:00 p.m.
Saugatuck at Allegan, 5:30 p.m.
Plainwell at Comstock, 6:30 p.m.
Vicksburg at Schoolcraft, 5:45 p.m.
Fennville at Bridgman, 7:00 p.m.
Michigan Lutheran at Covert, 6:00 p.m.
Bangor at White Pigeon, 6:00 p.m.
Mendon at Marcellus, 6:00 p.m.
Bloomingdale at Hartford, 7:30 p.m.
Cassopolis at Centreville, 7:30 p.m.
Decatur at Eau Claire, 6:00 p.m.
Martin at Delton-Kellogg, 7:00 p.m.
Kalamazoo Christian at Galesburg-Augusta, 7:00 p.m.
Lawton at Kalamazoo Hackett, 7:00 p.m.