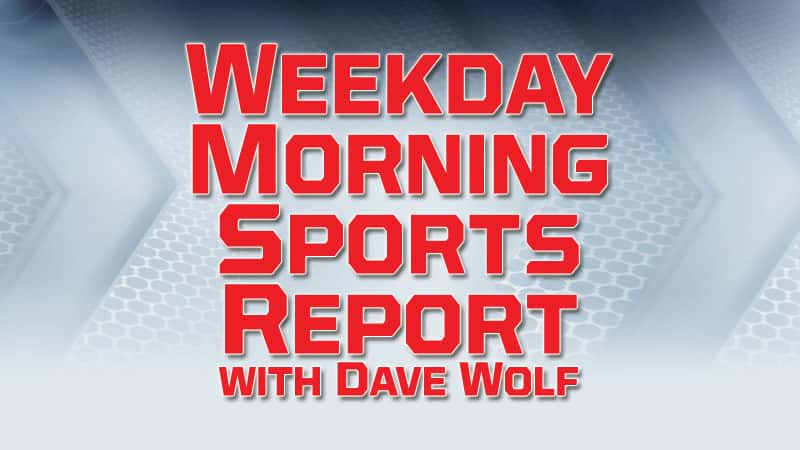 NHL – National Hockey League
Last Night
Nashville Predators 4, Chicago Blackhawks 3 – OT
Predators 4, Blackhawks 3 – OT – Forsberg leads Predators past Blackhawks 4-3
Filip Forsberg scored a minute into overtime for his second goal of the game, and the Nashville Predators beat the Chicago Blackhawks 4-3 on Wednesday night for their third straight victory. Colton Sissons and Viktor Arvidsson also scored to help the Predators improve to 3-0-1 on a six-game trip. Ryan Johansen and Mattias Ekholm each had two assists, and Pekka Rinne made 28 saves.  Nashville had a 3-2 lead before Patrick Kane flipped a pass into the middle to Artem Anisimov, who slid a shot under Rinne with 2:21 left in regulation. Anisimov stopped a seven-game drought with his eighth of the season. But Forsberg stepped up in overtime, driving to the net and flipping a shot over Collin Delia's left shoulder for his 16th of the season. Forsberg just returned to the Predators' lineup on Monday after missing 17 games with a hand injury. Chicago lost for the fourth time in five games. Alex DeBrincat and Jonathan Toews also scored for the Blackhawks, and Kane had two assists.
NHL – Draft, All-Star game coming to Seattle
The NHL is giving Seattle's future franchise a reward for its investment in bringing the league's 32nd franchise to the city. NHL Commissioner Gary Bettman said Wednesday the league has promised Seattle it will host the All-Star Game within its first seven seasons, with the team slated to begin play in 2021-22. Bettman also says Seattle will host the NHL draft, and that event will likely be awarded before the All-Star Game arrives.
NBA – National Basketball Association
Last Night
Boston Celtics 135, Indiana Pacers 108
Portland Trailblazers 124, Chicago Bulls 112
Los Angeles Lakers 113, Detroit Pistons 100
Celtics 135, Pacers 108 – Morris, Tatum help Celtics rout weary Pacers 135-108
Marcus Morris had 22 points and eight rebounds, Jayson Tatum had 20 points and the Boston Celtics routed the Indiana Pacers 135-108. Kyrie Irving had 12 points before sitting out the fourth quarter, and the Celtics put together their highest scoring game this season to get their fourth straight win. Boston also ended a three-game skid against the Pacers, who entered the night third in the Eastern Conference. The Celtics had seven players score in double figures.  Domantas Sabonis had 20 points and seven rebounds for the Pacers (27-14), who had won seven of eight. Thaddeus Young had 10 points and eight rebounds, and Victor Oladipo scored 17 points.
Trailblazers 124, Bulls 112 – McCollum scores 24 points, Trail Blazers beat Bulls 124-112
CJ McCollum had 24 points and the Portland Trail Blazers pulled away in the final quarter to send the Chicago Bulls to their fifth straight loss, 124-112 on Wednesday night.  Jusuf Nurkic had 18 points and eight rebounds but got into foul trouble and came up just short of his fifth straight game with 20 or more points. Portland has won three straight and five of its last six games.  Wendell Carter Jr. had 22 points to lead the Bulls in the first of a five-game road trip.
Lakers 113, Pistons 100 – Kuzma's career-high 41 leads Lakers over Pistons 113-100
Kyle Kuzma scored a career-high 41 points and the Los Angeles Lakers beat the Detroit Pistons 113-100 on Wednesday night to improve to 3-5 without injured LeBron James. Kuzma had 22 points in the third quarter, hitting four 3-pointers to get the crowd on its feet and scoring on consecutive goaltending calls. He left with 1:07 to play and put a wrap around his midsection with a pack stuffed in the back. Detroit's Blake Griffin, averaging a career-high 25.3 points, was held to 16 points and no rebounds. Andre Drummond had 17 rebounds and Reggie Jackson added 15 points for the Pistons, who have lost three in a row and six of seven.
Tonight
Detroit Pistons at Sacramento Kings, 10:00 p.m.
NCAAMBB – Men's College Basketball
Tonight
(2) Michigan at Illinois, 8:00 p.m.        95.7 & 1400 WSJM Sports   
NCAAWBB – Women's College Basketball
Last Night
(23) Michigan State 86, (15) Minnesota 68
Akron 72, Western Michigan 59
Central Michigan 88, Ohio 70
Buffalo 91, Eastern Michigan 84 – OT
Tonight
(2) Louisville at (1) Notre Dame, 7:00 p.m.
NFL – AP sources: Broncos, Jets, Browns get coaches
The list of NFL head coaching vacancies continues to shrink after the Denver Broncos, New York Jets and Cleveland Browns made new hires on Wednesday. A person familiar with the hiring says Bears defensive coordinator Vic Fangio is the new head coach of the Broncos. The 60-year-old Fangio has spent 34 years as an assistant but has never been a head coach at any level.  He is the oldest of five candidates to be interviewed by Broncos general manager John Elway, who fired Vance Joseph after posting an 11-21 record in his two seasons as head coach.  A person familiar with the decision says the Jets have hired former Dolphins coach Adam Gase as their head coach. Gase was 23-26 in three seasons with Miami before being fired after this season. The Dolphins lost their lone playoff game under Gase, who came to the Dolphins after serving as offensive coordinator of the Broncos. Gase replaces Todd Bowles, who was fired after he went 24-40 in four seasons. The Browns have hired their head coach from within. A person familiar with the decision says the Browns have prompted offensive coordinator Freddie Kitchens to head coach. Kitchens has no previous head coaching experience, but the offense enjoyed success while he mentored quarterback Baker Mayfield.  The person also says Gregg Williams is no longer with the organization after going 5-3 at interim coach this season. Williams was interviewed for the head coaching position.
NCAAFB – Targeting penalty targeted by coaches
Automatic ejections for targeting could be dropped in some cases as early as next season if an American Football Coaches Association proposal is approved by the NCAA Football Rules Committee.  AFCA executive director Todd Berry says there should be Targeting 1, which would carry a 15-yard penalty. Targeting 2 would be for hits with malicious intent and it would mean an ejection as well as the 15-yard penalty. Rogers Redding, the NCAA's national coordinator of officials, said that because the AFCA proposal concerns player safety, it would go into effect in 2019 if approved. The targeting penalty was introduced in 2008. It has included automatic player ejections since 2013.
NCAAFB – Hurts begins transfer process
Two people familiar with the situation say Alabama quarterback Jalen Hurts has entered his name into the NCAA transfer database portal. Putting his name on the list allows other schools to contact Hurts, who has already graduated and is eligible to play his final season as a graduate transfer. It's not a binding decision to transfer. Hurts is a two-year starter who led Alabama to a pair of national championship games and was Southeastern Conference offensive player of the year as a freshman.
AHL – American Hockey League
Last Night
Grand Rapids Griffins 3, Milwaukee Admirals 1
ECHL – ECHL Hockey
Last Night
Idaho Steelheads 4, Toledo Walleye 2
MCCAA – Junior College Sports
Last Night
Women's Basketball
Lake Michigan College 85, Kalamazoo Valley Community College 75
Samantha Jenkins scored a game high 16 points to lead Lake Michigan College to an 85-75 win over Kalamazoo Valley Community College.  Jenkins scored nine of her 16 in the 4th quarter as the Red Hawks were able to pull away.  With the win, LMC improves to 3-0 in the MCCAA Western Conference and 11-3 on the season.
Men's Basketball
Kalamazoo Valley Community College 63, Lake Michigan College 47
Lake Michigan College dropped a 63-47 decision to Kalamazoo Valley Community College.  KVCC led by as many as 22 in the 2nd half.  LMC pulled to within eight but couldn't finish the comeback.  Sheddrick Porter scored a game high 16 points in the loss for the Red Hawks.  The loss drops LMC to 1-2 in the MCCAA West and 3-11 on the season.
MHSAA – High School Sports
Last Night
Wrestling
Lakeshore 42, St. Joseph 19
103: Nolan Wertanen (SJ) over Cameron Litaker (LKSH) (SV-1 5-3)
112: Race Bettich (LKSH) over Jack Sherman (SJ) (MD 9-0)
119: Jacob Halsey (SJ) over Kyle Stampfly (LKSH) (MD 11-3)
125: Austin Dunn (LKSH) over Gabriel Soler (SJ) (Fall 2:51)
130: Micah Hanau (LKSH) over Isaac Meyer (SJ) (Dec 8-2)
135: Shane Williams (LKSH) over Yazan Farhan (SJ) (Fall 0:27)
140: Brock Strebeck (LKSH) over Karan Singh (SJ) (TF 16-0 4:00)
145: Daniel Vaughn (LKSH) over Jagroop Singh (SJ) (Fall 3:35)
152: James Harris (LKSH) over Matthew Morris (SJ) (Dec 7-2)
160: Case Rohl (LKSH) over Justice Lifferth (SJ) (Dec 10-4)
171: Drake Collins (SJ) over Erik Taylor (LKSH) (Dec 1-0)
189: Brent Huff (SJ) over Tafara Rukunda (LKSH) (Fall 1:47)
215: Zeke Rohl (LKSH) over Cameron Hurskin (SJ) (Fall 1:01)
285: Alex Taylor (SJ) over RJ Veldman (LKSH) (Dec 12-7)
Niles  76, Portage Northern 0
Boys Basketball
Brandywine 74, Marcellus 44
Martin 60, West Michigan Aviation 39
Girls Basketball
Bridgman 40, Coloma 28
Brandywine 55, Marcellus 15
Martin 51, West Michigan Aviation 19
Fennville 66, Wellspring Academy 46
Tonight
Girls Basketball
New Buffalo at Lake Michigan Catholic, 7:30 p.m.
Olivet at Comstock, 7:00 p.m.
Boys Swimming
St. Joseph at Mattawan, 6;00 p.m.
Bridgman/Lakeshore at Kalamazoo Loy Norrix, 6:00 p.m.