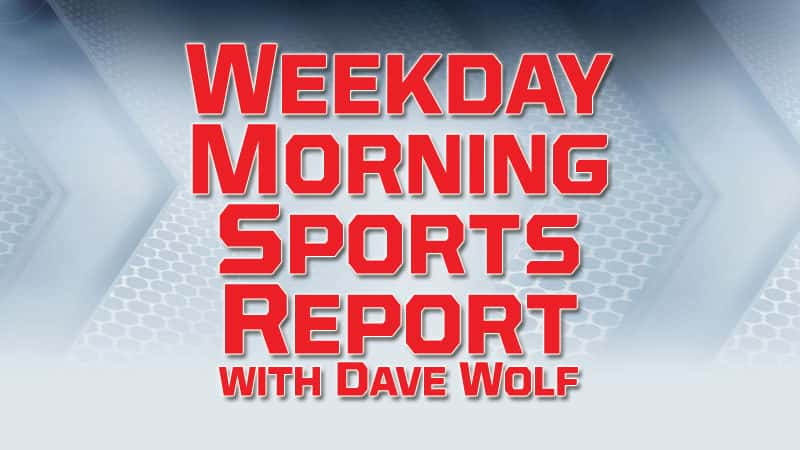 MLB – Major League Baseball
Last Night
Chicago Cubs 10, St. Louis Cardinals 5
Milwaukee Brewers 11, Detroit Tigers 0
Minnesota Twins 5, Chicago White Sox 4
Cubs 10, Cardinals 5 – Cubs force NL Central tiebreaker game, beat Cardinals 10-5
Anthony Rizzo had four hits and scored three times, and the Chicago Cubs set up a tiebreaker game for the NL Central title by beating the St. Louis Cardinals 10-5 on Sunday.  Shortly after Milwaukee completed an 11-0 victory over Detroit, Jorge De La Rosa worked a hitless ninth inning to move the Cubs back into a tie with the Brewers at 95-67. Yairo Munoz walked with two out, but Pena's harmless fly to right closed it out.  Next up, game No. 163.  The crowd of 39,275 roared when Jason Heyward caught Francisco Pena's fly ball for the final out on a wet, cool afternoon at Wrigley Field.  Now, everything gets real crazy.  Chicago hosts Milwaukee on Monday afternoon and the Colorado Rockies visit the Los Angeles Dodgers as baseball holds a pair of tiebreaker games on the same day for the first time. At stake is the postseason road for each club.  The winner at Wrigley gets a spot in the division series and home-field advantage throughout the NL playoffs. The loser plays again Tuesday night, hosting the runner-up in the NL West in the wild-card game. 
Brewers 11, Tigers 0 – Brewers top Tigers; NL Central tiebreaker vs Cubs next
Triple Crown contender Christian Yelich and the Brewers advanced to an NL Central tiebreaker against the Cubs, putting themselves in position Sunday with an 11-0 romp over the Detroit Tigers.  Both already assured playoff spots, the Brewers (95-67) meet the Cubs on Monday afternoon in a one-game matchup for the division title. The loser will host the NL wild-card game Tuesday vs. the loser of the Colorado-Dodgers tiebreaker in the NL West.  Yelich went 0 for 2 with two walks and scored twice against Detroit, ending his 10-game hitting streak. He is hitting .323 in his first season with Milwaukee, locking up the first batting title in Brewers' history.  Yelich has 109 RBIs, two behind leader Javier Baez of the Cubs. Yelich's 36 home runs are tied with Colorado's Trevor Story and St. Louis' Matt Carpenter, one behind Arenado.
Twins 5, White Sox 4 – Mauer doubles, catches in emotional likely finale with Twins
Joe Mauer Mauer doubled in his final at-bat, received one more pitch as catcher, and then walked off to an extended ovation as Minnesota likely said goodbye to the longtime face of its franchise during an emotional 5-4 win over the Chicago White Sox.  The 35-year-old Mauer was playing the final game of an eight-year, $184 million contract. So far, he's been noncommittal regarding his plans for next year and beyond.  Max Kepler and Jake Cave homered for the Twins, and reliever Andrew Vasquez (1-0) earned his first major league victory with one perfect inning of relief. Trevor May replaced Belisle and got three straight outs with the tying run on second in the ninth to earn his third save. Dylan Covey (5-14) gave up five runs over six innings. The White Sox finish the season at 62-100 losses, the first time the Sox have had 100 losses since 1970.
Today – MLB NL Divisional Tiebreakers
Milwaukee (TBD) at Chicago Cubs (Jose Quintana), 1:05 p.m.
Colorado (Marquez 14-10) at L.A. Dodgers (Buehler 7-5), 4:09 p.m.
MLB – NL Central, NL West still up for grabs
It's going to take a 163rd game to decide the National League Central and NL West titles after all four contenders won on Sunday.  Anthony Rizzo had four hits and scored three times as the Cubs doubled up the Cardinals, 10-5 to force a playoff game with Milwaukee for the NL Central championship. Rizzo picked up his 100th RBI with a tiebreaking double while Chicago was scoring four times in the third to erase a 2-0 deficit. Kris Bryant lined a two-run double and Willson Contreras added a two-run homer to make it an 8-2 game in the fifth.  The Cubs completed their victory after the Brewers clobbered the Tigers, 11-0 to keep their share of the NL Central lead. Jesus Aguilar and Travis Shaw homered to back Gio Gonzalez, who scattered three hits over five innings. Aguilar had three RBIs and MVP candidate Christian Yelich went 0-for-2 with two walks and two runs scored. Meanwhile, the Rockies and Dodgers created a one-game playoff for the NL West crown.
NFL – National Football League – Week 4
Yesterday
Dallas Cowboys 26, Detroit Lions 24
Chicago Bears 48, Tampa Bay Buccaneers 10
Houston Texans 37, Indianapolis Colts 34 – OT
Cowboys 26, Lions 24 – Prescott, Cowboys top Lions 26-24
The Cowboys pulled out a 26-24 victory over the Lions on Brett Maher's 38-yard field goal as time expired. Maher's fourth field goal was set up by Dak Prescott's 34-yard completion to running back Ezekiel Elliott, who had a career-high 240 all-purpose yards with 152 yards on the ground. Prescott was 17 of 27 for a season-high 255 yards with two touchdowns, including tight end Geoff Swaim's first career score. Dallas evened its record at 2-2 and dropped the Lions to 1-3.
Bears 48, Buccaneers 10 – Trubisky throws for 6 TDs, Bears pound Buccaneers 48-10
Mitchell Trubisky threw a career-high six touchdown passes and the Bears earned their third straight win by crushing the Buccaneers, 48-10. Trubisky finished one TD pass shy of a franchise mark set by Sid Luckman against the Giants in 1943. The 3-1 Bears also racked up 483 yards versus the 2-2 Bucs, nearly matching their record of 488 in Luckman's record-setting game.
Texans 37, Colts 34 – OT – Texans end losing streak in OT after Vinatieri sets record
Houston's nine-game losing streak is over after Ka'imi Fairbairn took advantage of his second chance on game-ending, a 37-yard field goal attempt to give the Texans a 37-34 overtime win over the Colts. Deshaun Watson was 29 of 42 with 375 yards, two touchdown passes and one interception in his finest performance since returning from a torn ACL in his right knee. Adam Vinatieri (vih-nuh-TEHR'-ee) became the league's career leader in field goals when he made a 42-yarder with two seconds left in the first half, and he extended the mark to 567 with a 44-yarder to give the Colts a 34-31 lead in overtime. Both teams are 1-3.
Tonight
Kansas City Chiefs at Denver Broncos, 8:15 p.m.                95.7 & 1400 WSJM Sports 7:30
Golf – Dominant Europe team crushes US
Europe's Ryder Cup winning streak on home soil continues.  The Europeans beat the U.S. team 17½-10½ to take back the cup they lost at Hazeltine in 2016. That's the most lopsided victory since consecutive 9-point wins by Europe in 2004 and 2006.  The Americans haven't won a Ryder Cup match in Europe since 1993.  Alex Noren closed out Europe's dominating win with a brilliant putt. The Swedish golfer rolled in a 40-foot birdie at the final hole to secure a 1-up victory over Bryson DeChambeau.  Sergio Garcia set a Ryder Cup record with his third victory at Le Golf National. Garcia's 2-and-1 triumph Sunday over American Rickie Fowler gave the Spaniard 25.5 points in his career, surpassing Nick Faldo's record of 25 points.  Tiger Woods lost all four of his matches. Phil Mickelson lost both of his.
NASCAR – Blaney wins in "roval" debut
Ryan Blaney was the winner of the debut race on the "roval" at Charlotte Motor Speedway.  Blaney was able to surge ahead when Cup contenders Martin Truex Jr. and Jimmie Johnson wrecked with to turns remaining. The bump eliminated Johnson from the Cup playoff. Truex faded to 14th and deliberately spun Johnson after the race.  Brad Keselowski was on track to win for the fourth time in five races until he misjudged the entry into the first turn on a restart with six laps remaining. Jamie McMurray was second, followed by Clint Bowyer, Alex Bowman and pole-sitter Kurt Busch.
NBA – NBA Preseason
Last Night
Chicago Bulls 128, New Orleans Pelicans 116
NCAAFB – AP Top 25: Ohio State up to 3, Notre Dame at 6; 5 new teams
There's a new No. 3 in the latest AP college football poll.  Ohio State moved past Clemson for the third spot, just behind top-ranked Alabama and Georgia. The Tigers dropped one spot with Saturday's 27-23 comeback win against visiting Syracuse.  The Crimson Tide received 58 first-place votes, while the Buckeyes and Clemson picked up one each.  LSU remains fifth, Notre Dame surged two spots to sixth, Oklahoma fell to seventh, Auburn climbed from 10th to eighth, West Virginia moved up three spots to ninth and Washington went up one notch to 10th.  Michigan fell one spot to 15 and Michigan State climbed one to number 20.
MCCAA – Junior College Sports
Yesterday
Women's Volleyball
Cuyahoga Community College 3, Lake Michigan College 1
Mott Community College 3, Lake Michigan College 0
Women's Soccer
Schoolcraft College 7, Lake Michigan College 1
Women's Soccer
Schoolcraft College 9, Lake Michigan College 0
MHSAA – High School Sports
Tonight
Girls Volleyball
Paw Paw at St. Joseph, 6:00 p.m.
Michigan Lutheran at Berrien Springs, 5:30 p.m.
Niles at Brandywine, 6:00 p.m.
Boys Soccer
Michigan Lutheran at Berrien Springs, 5:00 p.m.
Lawrence at Lake Michigan Catholic, 5:00 p.m.
Bloomingdale at Buchanan, 5:00 p.m.
Brandywine at Cassopolis, 5:00 p.m.
Covert at New Buffalo, 6:30 p.m.
Allegan at Otsego, 6:30 p.m.
Vicksburg at Paw Paw, 6:30 p.m.
Edwardsburg at Plainwell, 6:30 p.m.
Three Rivers at South Haven, 6:00 p.m.
Dowagiac at Sturgis, 6:30 p.m.
Bangor at Parchment, 5:00 p.m.
Lawton at Delton-Kellogg, 6:00 p.m.
Girls Golf
St. Joseph, Lakeshore, Niles at South Haven Invitational, 8:30 a.m.