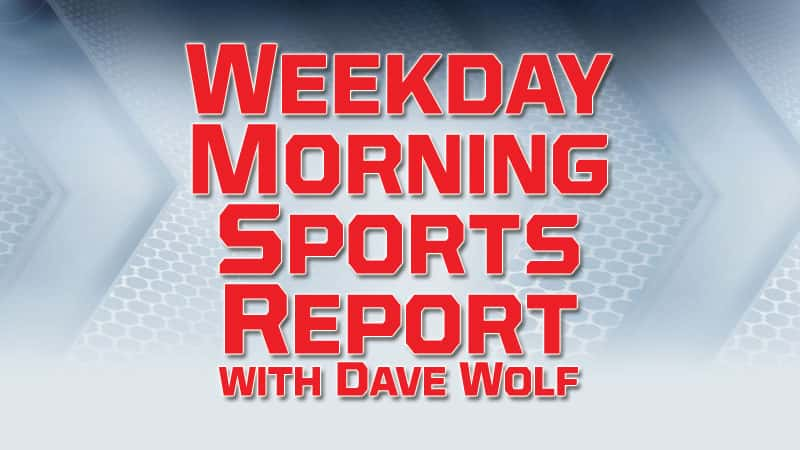 MLB – Major League Baseball
Last Night
Chicago Cubs 4, Washington Nationals 3 – 10 Innings
Tigers and White Sox were off
Cubs 4, Nationals 3 – F/10 – Cubs outlast Nats
The Chicago Cubs needed 10 innings to add a half-game to their lead in the National League Central.  Kris Bryant doubled and scored on a bunt single by Javier Baez with one out in the 10th to give the Cubs a 4-3 victory over the Nationals in Washington. Baez also belted a solo shot in the sixth to break a 2-2 tie, but the Nats forced extra innings on Trea Turner's seventh-inning double.  Pedro Strop (strohp) improved to 6-1 and was the eighth of nine pitchers used by manager Joe Maddon. However, Strop also pulled a hamstring while running the bases. The outcome gives the Cubs a 1 1/2-game edge over the idle Milwaukee Brewers.
Tonight
Chicago White Sox (Shields 6-16) at Baltimore (Ortiz 0-0), 7:05 p.m.
Detroit (Boyd 9-12) at Cleveland (Tomlin 1-5), 7:10 p.m.             98.3 The Coast 6:45
Cincinnati (Harvey 7-8) at Chicago Cubs (Hamels 9-9), 8:05 p.m.
NFL – National Football League – Week 2
Last Night
Cincinnati Bengals 34, Baltimore Ravens 23
Bengals 34, Ravens 23 – Bengals hold off Ravens
A.J. Green and the Cincinnati Bengals are 2-0 after beating a division rival. Green grabbed three touchdown passes in the first half while the Bengals were building an early 21-point lead in a 34-23 victory over the visiting Baltimore Ravens. He set the tone with scoring receptions of four, 28 and seven yards on consecutive possessions. Andy Dalton threw all four of his scoring strikes in the first half and finished 24 of 42 for 265 yards. It was his fifth career game with at least four touchdown passes. Joe Flacco couldn't do anything against Cincinnati until the Bengals led by three touchdowns. He threw for 356 yards and a pair of touchdown passes, including a 21-yarder to John Brown that cut it to 28-23 with 9:35 left. Flacco also fumbled with 2:42 remaining to set up a game-clinching field goal by Randy Bullock. The Ravens are 1-1.
Sunday
Minnesota Vikings (1-0) at Green Bay Packers (1-0), 1:00 p.m.
Indianapolis Colts (0-1) at Washington Redskins (1-0), 1:00 p.m.
Detroit Lions (0-1) at San Francisco 49ers (0-1), 4:05 p.m.         WSJM Sports/Cosy-FM 2:00
Monday
Seattle Seahawks (0-1) at Chicago Bears (0-1), 8:15 p.m.            95.7 & 1400 WSJM Sports 7:50
NFL – Big Ben sits out practice again
The Pittsburgh Steelers aren't saying much about the status of quarterback Ben Roethlisberger for Sunday's home opener against the Chiefs. Roethlisberger skipped practice for a second straight day due to an issue with his right elbow. The 36-year-old Roethlisberger injured the elbow on Pittsburgh's next-to-last offensive snap in a Week 1 tie with Cleveland. Offensive coordinator Randy Fichtner declined to get into specifics about Roethlisberger's status for Sunday.
NCAAFB – College Football – Week 3
Saturday
Vanderbilt at (8) Notre Dame, 2:30 p.m.
Southern Methodist at (19) Michigan, 3:30 p.m.                          News/Talk 94.9 WSJM
Central Michigan at Northern Illinois, 3:30 p.m.
Eastern Michigan at Buffalo, 6:00 p.m.
Delaware State at Western Michigan, 7:00 p.m.
(25) Michigan State, bye week
NCAA – University of Illinois panel suggests adopting new mascot
A University of Illinois report suggests that the school consider adopting a new sports mascot to help quell ongoing turmoil over the 2007 decision to do away with its longtime Chief Illiniwek portrayal. The report by a group of university administrators released Thursday also proposes greater campus education about Native American history and imagery, including presentations on why the use of Illiniwek is inappropriate. Campus Chancellor Robert Jones tells The (Champaign) News-Gazette that officials are working on a historical commemoration of the mascot and strengthening ties with American Indian tribes. Jones also says the chief is "part of our history" and not coming back. Chief Illiniwek had been portrayed since 1926 by a student in a buckskin costume who danced at games. Many American Indians found the portrayal offensive.
NCAA – Michigan State trustee's son denies any Nassar cover-up
Michigan State University says it's lining up a lawyer for trustee George Perles (PER'-lis), who's accused of covering up a rape allegation against Larry Nassar in 1992, when Perles was the athletic director and football coach. A lawsuit filed Monday accuses Perles of blocking an investigation of a sexual assault by Nassar on a 17-year-old field hockey player. Perles isn't named as a defendant. But university counsel Robert Young says the school is hiring a lawyer to assist him. The 84-year-old Perles hasn't commented. Son Pat Perles tells ESPN that the allegation against his father is a "fabrication." He says, "It never happened."  Nassar was a medical student in 1992. He went on to become a sports doctor at the university. He's in prison for child pornography and sexual assault.
NHL – Sharks acquire Erik Karlsson from Senators
San Jose Sharks now have two-time Norris Trophy winner Erik Karlsson on their blueline. Karlsson was acquired from the Ottawa Senators for a package of young players and several high draft picks. The Sharks also received forward Francis Perron and sent forwards Chris Tierney, Josh Norris and Rudolfs Balcers to Ottawa, along with defenseman Dylan DeMelo.  The Senators also get a first-round pick in 2019 or 2020, a second-round pick next year and two conditional selections. San Jose will also send Ottawa a second-rounder in 2021 if Karlsson re-signs with the Sharks. The four-time, First Team All-Star is coming off one of his worst seasons, scoring nine goals and 62 points with a minus-25. The 28-year-old defenseman has scored 126 goals and 518 points in 627 NHL games, all with Ottawa.
NHL – Seguin will stay with Stars
Five-time All-Star center Tyler Seguin has signed a $78.8 million, eight-year contract extension with the Dallas Stars that goes through the 2026-27 season. Stars general manager Jim Nill announced the deal Thursday before the team departed Texas for the start of training camp in Boise, Idaho. Seguin was going into the final season of his contract. The 26-year-old Seguin spent his first three NHL seasons with Boston, and was member of the Bruins when they won the 2011 Stanley Cup, before being traded to Dallas in the summer of 2013. He scored a career-high 40 goals last season and had 78 points. Seguin has 505 points (229 goals, 276 assists) in 590 regular-season games. In five playoff appearances, he has 21 points (seven points, 14 assists) in 49 games.
NBA – Milwaukee officer involved in NBA player's arrest fired
A Milwaukee police officer involved in the stun gun arrest of Bucks' player Sterling Brown has been fired because of social media posts.  Police Chief Erik Morales disclosed the firing during a speech at Marquette University on Thursday but he did not name the officer. Brown sued the police department in June and accused officers of using excessive force and targeting him because he's black.  One officer later mocked Brown on Facebook for his Jan. 26 arrest stemming from a parking violation.
MWL – Midwest League Baseball – League Championship Series (Best of 5)
Last Night
Peoria Chiefs 2, Bowling Green Hot Rods 1                                  (Series tied 1-1)
-Game 3 Saturday at 7:35 at Bowling Green
MHSAA – High School Sports
Last Night
Boys Soccer
St. Joseph 4, Lakeshore 3
St. Joseph rallied from a 3-1 halftime deficit and came back to defeat Lakeshore 4-3 in the first game in Lakeshore's new Mark Lehmann Soccer Stadium.  Isaac Filippo scored on a penalty kick to tie the game and Freshman Seth Walters also scored on a penalty kick with 10 minutes left to give the Bears the win.  Walters also scored in the second half.  Casey Miller had a goal in the first half for St. Joe.    Dylan Sing had a pair of goals and Tom Bitzer scored for the Lancers. 
Portage Northern 6, Niles 0
Mattawan 2, Battle Creek Lakeview 2 – TIE
Howardsville Christian 5, Lake Michigan Catholic 0
Girls Volleyball
South Haven 3, Paw Paw 1
Edwardsburg 3, Dowagiac 0
Plainwell 3, Allegan 0
Vicksburg 3, Sturgis 0
Three Rivers 3, Otsego 1
Cassopolis 3, Decatur 1
Bangor 3, Hartford 0
Mendon 3, Eau Claire 0
White Pigeon 3, Marcellus 2
Boys Tennis
Portage Northern 8, Niles 0
Lakeshore 7, Edwardsburg 1
New Buffalo/Bridgman 5, Coloma 3
Berrien Springs 8, South Haven 0
Tonight
Football – All games start at 7:00 p.m.
SMAC
St. Joseph (2-1) at Lakeshore (1-2)   95.7 & 1400 WSJM Sports 6:30/97.5 Y-Country 6:40
Niles (1-2) at Mattawan (2-1)
Kalamazoo Loy Norrix (1-2) at Kalamazoo Central (1-2)
Portage Central (2-1) at Battle Creek Central (3-0)
Battle Creek Lakeview (0-3) at Gull Lake (0-3)
Wolverine
South Haven (0-3) at Paw Paw (2-1)     Superhits 103.7 Cosy-FM 6:45
Edwardsburg (3-0) at Dowagiac (2-1)
Plainwell (2-1) at Allegan (0-3)
Three Rivers (3-0) at Otsego (1-2)
Vicksburg (1-2) at Sturgis (1-2)
Non-Conference/Independent
Gobles (0-3) at South County (0-3)
Martin (2-1) at Lake Michigan Catholic (1-2)
Constantine (3-0) at Buchanan (0-3)
Eau Claire (0-1) at White Pigeon (1-2)
Saginaw Arthur Hill (0-3) at Coloma (2-1)
Det. Delta Prep (1-2) at Berrien Springs (2-1)
Galesburg-Augusta (1-2) at Comstock (0-3)
Kalamazoo United (3-0) at Parchment (0-3)
East Lansing (3-0) at Portage Northern (2-1)
SAC
Watervliet (2-1) at Fennville (2-1)
Delton-Kellogg (3-0) at Lawton (1-2)
Saugatuck (3-0) at Schoolcraft (2-1)
Southwest 10
Hartford (3-0) at Marcellus (0-3)
Centreville (3-0) at Decatur (2-1)
Cassopolis (3-0) at Bloomingdale (0-3)
Mendon (2-1) at Bangor (0-3)
BCS
River Valley (2-1) at Brandywine (1-2)
8-Man Football
Michigan Lutheran (0-3) at Waldron (1-2)
Lawrence (0-3) at Morrice (3-0)
Colon (3-0) at Battle Creek St. Philip (3-0)