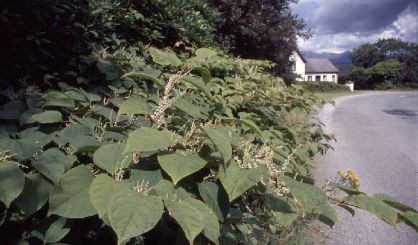 Progress is being made in the battle by the city of St. Joseph against Japanese knotweed, but it's slow. Public Works director Tom MacDonald says when he goes into the ravine at this time of year, he sees evidence the plants have been killed in some spots.
"At that time, we were estimating three to five years of treatment and we would have it under control," MacDonald told the city commission this week. "I think that was optimistic. I think this is going to be ongoing, not only to reduce the stands of knotweed to get it under control, but then to keep it under control."
The plants can't be killed by Roundup or other traditional spray methods, and it only spreads when it's cut down. It first showed up in the ravine in St. Joseph, which is where the sanitary sewer interceptor is located. MacDonald said that was a big cause for concern.
"Knotweed has the capability of breaking through concrete walls, concrete pavement, and destroying structures," he said. He added a lot has been learned statewide about the weed since it first showed up in southwest Michigan about five years ago. It's also been found in Benton Harbor and South Haven.