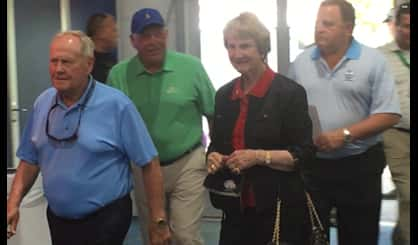 The man who designed Harbor Shores has returned for the first time since it opened in 2010. Jack Nicklaus visited the course during the second round of the KitchenAid Senior PGA Championship Friday to see what his creation has become and the development it helped to spawn in and around Benton Harbor.
"All things that have happened, I'm just a little small piece of it," Nicklaus said. "Here's a gentleman, Jeff Fettig at Whirlpool, who just absolutely had a mission and has certainly gone after that mission."
Nicklaus said creating the course wasn't easy. "This was probably the most diverse property that we've ever done a golf course on from the beautiful dunes of Lake Michigan to a toxic waste Superfund area on 14, and a lot of everything in between."
He marveled at the Inn at Harbor Shores and new businesses that have opened up in downtown Benton Harbor since his last visit eight years ago. Nicklaus likes that Harbor Shores has become the home of the KitchenAid Senior PGA Championship in even years from 2012 through 2024.
"I think it's really great of the PGA of America to work with Whirlpool and every other year they've brought it here. So you have another four championships coming here, and I think that's fantastic," Nicklaus told reporters. "You've produced some pretty good winners, and I think you'll probably continue to do so."
As for the course itself, Nicklaus kept it simple.
"I think the golf course is a beautiful golf course. I'm very proud of it."
The KitchenAid Senior PGA Championship runs through Sunday at Harbor Shores.