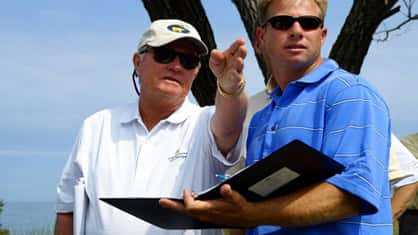 The man who designed The Golf Course at Harbor Shores is coming back this week during the KitchenAid Senior PGA Championship for the first time since it opened. Championship director Ryan Ogle says a lot has been built up around the golf course since Jack Nicklaus was last here.
"You look at seven neighborhoods in seven years, The Inn at Harbor Shores, North Pier Brewery and North Shore Inn (has been redone). I think he's going to be excited to see all the changes," Ogle tells WSJM News. "I know there's a lot of buzz about him coming back. He's going to be here Friday, the weather looks great, and maybe, just maybe, we can have him roll a put or two on (hole) 10, right?"
Nicklaus helped open the course he designed on land that was blighted in Benton Harbor in August 2010 by playing a round with Arnold Palmer, Johnny Miller, and Tom Watson.
"To have the architect, Jack Nicklaus, come back during our championship is special, not only for the championship, but also for the community. The goal is for him to see what has changed and transpired," said Ogle.
Harbor Shores has hosted the KitchenAid Senior PGA Championship every other year since 2012, and will continue to be its home in even years through 2024. This year's championship runs through Sunday in Benton Harbor.
We are broadcasting live on the air on News/Talk 94.9 WSJM, and for the first time streaming our coverage of the KitchenAid Senior PGA Championship online at wsjm.com from 1-4 p.m. Thursday and Friday, 1-4 p.m. Saturday and 3-6 p.m. Sunday with Phil McDonald, Michael Patrick Shiels, and John Jay.
Photo credit: Pat Moody