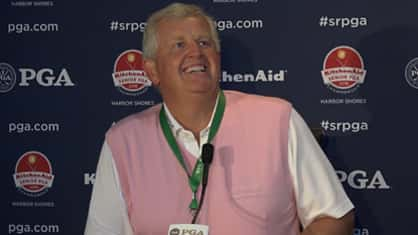 Two-time Senior PGA Championship winner Colin Montgomerie is ready to try to win his third this week at Harbor Shores. He won his first major on the senior tour here in 2014, and followed that up with a win the next year at French Lick Resort in Indiana. Montgomerie says Harbor Shores plays to his strengths.
"I feel very comfortable on this golf course," Montgomerie told reporters Wednesday morning. "I look forward to tomorrow afternoon's round, I really do. It's a major championship, it feels like a major championship." He says the PGA of America has done "extremely well" with the setup, saying the last four holes always lend to a "superb finish, tight finish."
Montgomerie will be paired with Rocco Mediate, the defending course champion having won the KitchenAid Senior PGA Championship here in 2016, and Vijay Singh, who is making his Senior PGA Championship debut. The first golfers tee off Thursday morning at 7:30 a.m. Montgomerie, Mediate and Singh will tee off to start on hole 10 at 1:30 p.m. tomorrow.