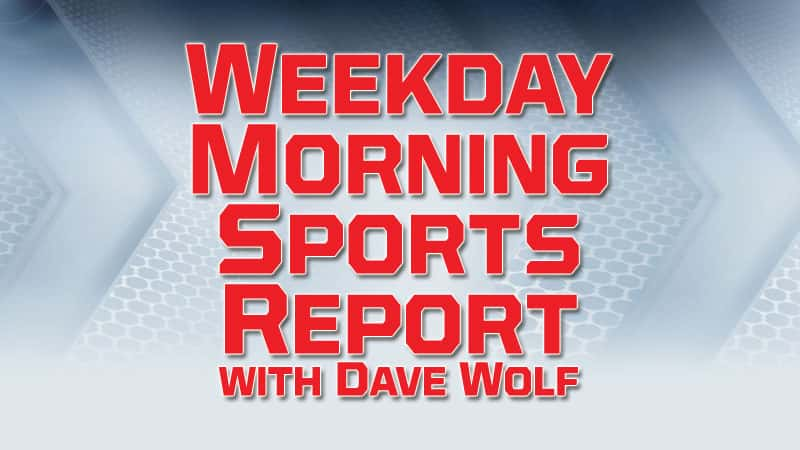 95.7 & 1400 WSJM Sports     @wsjmsports     wsjmsports.com     Wednesday, December 06, 2017
NCAAMBB – NCAA Basketball – Men's
Last Night
(3) Michigan State 62, Rutgers 52
Ball State 80, (9) Notre Dame 77
Central Michigan 75, Montana State 48
(3) Michigan State, Rutgers 52 – Bridges scores 21 as No. 3 Michigan State beats Rutgers
Miles Bridges scored 21 points and No. 3 Michigan State overcame its worst offensive performance of the season with a 62-52 victory over surprising Rutgers on Tuesday night. Jaren Jackson Jr. scored all 11 of his points in the second half and had eight of the Spartans' season-high 13 blocks in helping Michigan State (8-1, 2-0 Big Ten) post its seventh straight win. Joshua Langford added 15 points. Rutgers (6-3, 0-2) made Michigan State work for this one, holding the Spartans to season lows in points and shooting percentage (38.6). The previous low was 63 points and 40 percent shooting against North Carolina.  Deshawn Freeman had 13 points and Geo Baker and Eugene Omoruyi added 11 apiece for Rutgers, which lost its third straight.
Ball State 80, (9) Notre Dame 77 – Ball State shocks No. 9 Notre Dame
Tayler Persons hit 3-pointer from the left wing with 1.7 seconds remaining and Ball State shocked No. 9 Notre Dame 80-77 on Tuesday night at Purcell Pavilion. Persons scored 24 points, Tahjai Teague added 13 and Sean Sellers had 11 as Ball State knocked off a nationally ranked opponent for the first time since downing No. 4 UCLA 91-73 more than 16 years ago. Notre Dame (7-2) lost a nonconference home game for the first time since falling to North Dakota State four years ago. Bonzie Colson had 26 points for the Irish. Farrell added 14 points and eight assists, while Martinas Geben finished with 12 points.
CMU 75, Montana State 48 – McKay leads Central Michigan to 6th straight victory
Kevin McKay had 17 points as Central Michigan pulled away from Montana State 75-48 on Tuesday night for its sixth straight win. McKay was 8 of 14 from the floor with six rebounds. Shawn Roundtree and Cecil Williams added 14 points apiece and David DiLeo chipped in 13, nailing 3 of 8 from distance, while grabbing nine rebounds. Williams had seven rebounds with three assists. Central Michigan (7-1) had a 37-20 advantage at the half. Roundtree drilled a 3-pointer to start the second half and the Chippewas, whose only loss was to Michigan, pulled away to a 58-31 lead.  Harald Frey scored 12 points for Montana State (6-4), which was 17 of 59 from the floor (28 percent), including 1 of 16 from distance. The Bobcats' leading scorer Tyler Hall was scoreless in 11 minutes.
Tonight
Cleveland State at Western Michigan, 7:00 p.m.
Oakland at Eastern Michigan, 7:00 p.m.
NHL – National Hockey League
Last Night
Detroit Red Wings 5, Winnipeg Jets 1
Red Wings 5, Jets 1 – Red Wings snap 7-game skid with 5-1 win over Jets
Justin Abdelkader and Gustav Nyquist scored in a dominant first period for Detroit, and the Red Wings snapped a seven-game slide with a 5-1 victory over the Winnipeg Jets on Tuesday night. Fresh off a 10-1 loss at Montreal on Saturday, the Red Wings outshot Winnipeg 16-3 in the opening period and took a 2-0 lead. They put the game away with three more goals in the third. Winnipeg, which entered tied for the NHL lead in points, managed only a second-period goal by Patrik Laine on a two-man advantage. The Red Wings answered in the third with goals by Jonathan Ericsson, Darren Helm and David Booth.
Tonight
Chicago Blackhawks at Washington Capitals, 8 p.m.
NCAA Basketball – Women's
Tonight
Michigan State at (3) Notre Dame, 7:00 p.m.
Olympics – IOC says Russian athletes can't compete under their country's flag
The International Olympic Committee says Russians will be allowed to compete at the upcoming Olympics in South Korea as neutral athletes, despite orchestrated doping at the 2014 Games in Sochi, Russia.  The IOC today ruled that some Russians will be invited to compete under the designation "Olympic Athlete from Russia," but without their national flag or anthem.  Russia could still refuse the offer and boycott the games.
Olympics – Russia considering response
The president of the Russian Olympic committee says the country's athletes need time to consider whether they will take part in the Pyeongchang Games.  Alexander Zhukov says "we plan for it to be discussed" by Russian sports officials and athletes at a forthcoming meeting before a final decision on participation, but didn't give a date. The spokesperson for the Russian foreign ministry says the IOC ruling is "painful." Former NHL player Ilya Kovalchuk says Russia must go to the Olympics despite not being able to use its national flag at the Pyeongchang Games. Kovalchuk tells Russian news agencies that a boycott would not work. He says "refusing means giving in" to what he terms political pressure.
NFL – NFL upholds Gronkowski's 1-game suspension for hit on White
The NFL has denied Patriots tight end Rob Gronkowski's appeal of a one-game suspension for a late, gratuitous hit to the head of Bills defensive back Tre'Davious White.  The league announced the decision of appeals officer Derrick Brooks today. White was face down on the sideline after intercepting a pass in Buffalo on Sunday when Gronkowski body-slammed him, driving his forearm into White's back and head. Gronkowski was called for unnecessary roughness, but not kicked out of the game. White went into the concussion protocol.  Gronkowski, who apologized for the hit , will serve his suspension against Miami next Monday night.
 
NFL – Discipline begins fallout from Steelers-Bengals game
Pittsburgh Steelers rookie wide receiver JuJu Smith-Schuster and Cincinnati Bengals cornerback George Iloka have been suspended one game each by the NFL for violating league safety rules. Smith-Schuster was flagged for unnecessary roughness and taunting after a blindside hit on Bengals linebacker Vontaze Burfict in the fourth quarter of Pittsburgh's 23-20 victory Monday night. Iloka was penalized for unnecessary roughness for a helmet-to-helmet hit on Steelers wide receiver Antonio Brown. Jon Runyan, the NFL's vice president of football operations, ruled that
Smith-Schuster "delivered a violent and unnecessary blindside shot to (Burfict's) head and neck area." Burfict left the game on a stretcher and did not return. Runyan suspended Iloka for striking a defenseless receiver in the head and neck area. Brown, who caught the game-tying pass on the play, remained in the game.
 
NFL – Shazier still hospitalized
Pittsburgh Steelers linebacker Ryan Shazier remains in a Cincinnati hospital with a back injury. Coach Mike Tomlin offered no update on Shazier's condition or his prognosis on Tuesday, more than 12 hours after Shazier left on a stretcher in the first quarter of Pittsburgh's 23-20 victory over Cincinnati after tackling Bengals wide receiver Josh Malone. Shazier underwent a CT scan and an MRI late Monday. The team says Shazier will not require surgery "at this time," but Tomlin said he would wait until hearing from the medical team attending to Shazier before releasing more information. Tomlin says he spoke to Shazier before leaving Cincinnati and that Shazier was in good spirits. Tomlin says Shazier challenged his teammates to "move on."  The first-place Steelers host division rival Baltimore on Sunday night.
AHL – American Hockey League
Tonight
San Diego Gulls at Chicago Wolves, 8:00 p.m.
ECHL – East Coast Hockey League
Today
Fort Wayne Komets at Toledo Walleye, 10:35 a.m.
MHSAA – High School Sports
Last Night
Boys Basketball
Benton Harbor 77, Dowagiac 43
Benton Harbor opened the season with a 77-43 win at Dowagiac.  The Tigers made an early statement, opening the game on an 18-0 run.  Carlos Johnson led the Tigers with a game high 23 points.  Shawn Hopkins was right behind Johnson with 20 points, while Dennie Brown added 10.  Dowagiac got 11 points from James Merchant and 10 from Caled Murphy.
St. Joseph 56, Battle Creek Harper Creek 53
St. Joe had to withstand a fourth quarter rally from Harper Creek but held on for a 56-53 road victory.  Cade Shimulunas had 13 points to lead St. Joe, Tyler Voth was the only other Bear in double figures with 10.  Voth also added 10 rebounds as St. Joe improves to 1-0.  Dom Gibson had a game high 20 points to lead Harper Creek.
Lakeshore 53, South Haven 48
Lakeshore opened the season with a 53-48 win over South Haven.  Lakeshore junior guard Micah Seats led all scorers with 18, Austin Kaiser had 12.  The Rams were led by Cascadara Smith with 15, all on three-balls, while Andre Cobbs added 12.  Lakeshore will open SMAC West Division play at St. Joe on Friday live on 95.7 & 1400 WSJM Sports.  South Haven will host Sturgis Friday night, live on Superhits 103.7 Cosy-FM.
Bangor 52, Michigan Lutheran 45
Bangor had three players in double figures as the Vikings beat Michigan Lutheran 52-45.  Marshall Weber had a game high 18 points for Bangor, Hunter Graham had 18 and Connor McDaniel scored 10.  The Titans were led by Zeb Pappenfuss with 13 while Kasen Kerns scored 11.
Coloma 89, Coloma 61
Zach Goodline had 32 points as Coloma opened the season with an 89-61 win over Buchanan. Carter Jeffries had 15 to lead the Bucks.
Other Scores
Niles 63, Three Rivers 63 – OT   (Brayden Lake hit the game winning shot as time expired)
Jackson 65, Battle Creek Central 41
Plainwell 56, Portage Northern 42
Mattawan 55, Paw Paw 54 – Luke Tolliver (MAT) 31 points, 11 Rebounds
Brandywine 64, Saugatuck 57
Centreville 69, White Pigeon 35
Kalamazoo Christian 53, Bloomingdale 41
Lawton 48, Martin 44
Coldwater 61, Battle Creek Lakeview 51
Decatur 57, River Valley 40
Gull Lake 59, Otsego 58
Girls Basketball
St. Joseph 40, Edwardsburg 37
Maggie Lear's layup and free throw with 0.7 seconds left gave St. Joe a 40-37 come from behind win at Edwardsburg.  Anna Fischer had a game high 21 points for St. Joe as they improve to 2-1 on the season.  Alexa Markel had 9 of her 11 points in the first half for the Eddies who fall to 2-1.
Dowagiac 40, Benton Harbor 32
Amiyah Smith had 18 points in Dowgaiac's 40-32 win at Benton Harbor.  Stacy Pullen had 8 for Benton Harbor. 
Watervliet 46, Michigan Lutheran 40
Ariana Rowe scored a game high 16 points and added 8 rebounds as Watervliet picked up their first win of the season with a 46-40 win over Michigan Lutheran.  Jaelyn Pitra added 14 points for the Panthers.  Sarah Jackemeyer had 15 to lead Michigan Lutheran.
Lake Michigan Catholic 55, Watervliet Grace Christian 14
Emily Lage had 16 points in Lake Michigan Catholic's 55-14 win over Grace Christian.
Three Rivers 51, Niles 35
Hadley Miller led all scored with 18 points as Three Rivers beat Niles 51-35.  Lajan Mitchell scored 11 in defeat for the Vikings,
Decatur 51, Marcellus 42
Regan Rose had 20 points including three triples to give Decatur a 51-42 win over Marcellus.  Jania Green added 18 for Decatur.  Jana Hewig had 16 and Morgan Hartline had 13 for Marcellus.
Hartford 58, Eau Claire 2
Mikenzie Chambers had 18 points to lead Hartford over Eau Claire 58-2.  AJ Jackson added 13 for Hartford.
Berrien Springs 42, South Bend Trinity 23
Michelle Henry had 12 points in Berrien Springs 42-23 win at South Bend Trinity.  Hillary Dortch added 9 for the Shamrocks.
Other Scores
Gobles 58, South Haven 40
Mattawan 52, Paw Paw 29
Plainwell 42, Portage Northern 22
Schoolcraft 48, Sturgis 29
Buchanan 33, Coloma 31
Brandywine 73, Saugatuck 35
Coldwater 68, Battle Creek Lakeview 35
Lawton 52, Martin 42
Jackson 47, Battle Creek Central 42
Tonight
Wrestling
St. Joseph at Otsego Quad, 5:30 p.m.
Mishawaka at Lakeshore, 6:00 p.m.
South Haven at Fennville, 6:00 p.m.
Benton Harbor at Schoolcraft Super Dual, 6:00 p.m.
Boys Basketball
Lawrence at Decatur, 7:00 p.m.