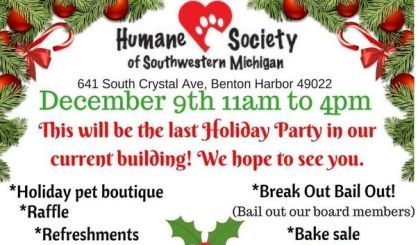 Set for this Saturday is the annual Humane Society of Southwestern Michigan Holiday Party. The Humane Society's Jill Svoboda tells us they hold the event as a way to let anyone stop by and meet some of the critters who live there.
"This will be the last holiday party in our current building at 641 South Crystal Avenue in Benton Harbor, Michigan" Svoboda said. "So, this is kind of the holiday party of all holiday parties."
Svoboda tells us a highlight of this year's event will be a game called Break Out Bail Out, which features members of the Humane Society Board locked in kennels and asking people to bail them out. There will also be a pet boutique, a raffle, refreshments, and a bake sale. Everyone who stops by is asked to bring along a donation to the shelter. They need things like blankets, pet food, and floor cleaner. The bash is this Saturday at the Humane Society from 11 a.m. to 4 p.m.