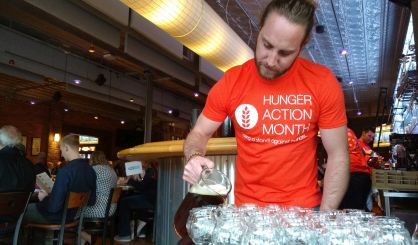 An effort made this September by breweries across the region to raise money for Feeding America West Michigan has resulted in $45,000 going to fight hunger. Feeding America West Michigan's Sean Little tells WSJM News Hops Against Hunger involved dozens of brewers who held fundraisers, sometimes for one day and sometimes for several. He notes hunger is a major problem here in west Michigan.
"One in eight individuals are struggling with food insecurity in Michigan, and that's about one in five among children," Little said. "Depending on where people are located, those numbers are going to be higher or less than, but essentially, you're talking about 15% of our population."
Breweries including the Livery, Green Bush Brewing, and Watermark Brewing Company took part in Hops Against Hunger. Little tells us they'll definitely do it again next year.