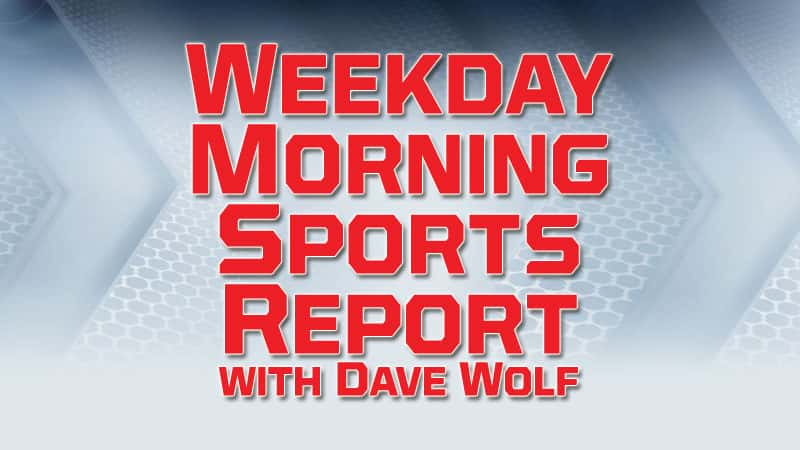 95.7 & 1400 WSJM Sports     @wsjmsports     wsjmsports.com     Wednesday, September 13, 2017
MLB – Major League Baseball
Last Night
Cleveland Indians 2, Detroit Tigers 0
Kansas City Royals 4, Chicago White Sox 3
Chicago Cubs 8, New York Mets 3
Indians 2, Tigers 0 – Roaring 20: Indians tie AL record with 20th straight win
The Cleveland Indians share a record with a team celebrated by Hollywood. "Moneyball" has its sequel. Following a familiar script of scoring first, playing strong defense and riding dominant pitching, the Indians extended their winning streak to 20 games and matched the AL mark held by the 2002 Oakland Athletics, beating the Detroit Tigers 2-0 on Tuesday night. Cleveland's streak, which began on Aug. 24 in Boston, is tied for the majors' second-longest in 82 years, and the Indians show no signs of stopping. Corey Kluber (16-4) strengthened his Cy Young Award case with a four-hitter as Cleveland joined the 2002 A's, 1935 Chicago Cubs (21) and 1916 New York Giants (26) as the only teams to win at least 20 in a row.
Royals 4, White Sox 3 – Brandon Moss grand slam lifts Royals over White Sox 4-3
Brandon Moss hit a grand slam in the first inning for his third consecutive game with a homer, powering Kansas City past Chicago 4-3. Scott Alexander worked out of a ninth-inning jam for his fourth save in six chances. He yielded a double to Adam Engel and a single to Yolmer Sanchez to lead off the ninth. He struck out Yoan Moncada, retired Jose Abreu on a pop to Whit Merrifield and got pinch hitter Matt Davidson on a grounder to end the game. White Sox rookie Dylan Covey (0-5) walked the bases loaded before Moss drove a full-count fastball to right-center. It was Moss's fourth career grand slam and his first since July 24, 2014. He has nine RBIs in his past three games. Sam Gaviglio (4-5) picked up his first Royals victory in his second start after being picked up on waivers Sept. 1 from Seattle.
Cubs 8, Mets 3 – Bryant homers as Cubs beat Mets 8-3
Kris Bryant hit a three-run homer, Jose Quintana pitched seven effective innings and Chicago got a sorely needed victory by beating the Mets 8-3.  Quintana (10-11) also helped himself at the plate with a pair of sacrifices, including a perfectly placed safety squeeze that drove in Kyle Schwarber in the fourth. Quintana got another bunt down in the sixth, sending Javier Baez to third ahead of Ben Zobrist's RBI single.  Chicago had lost three in a row and six of eight, making for a crowded race at the top of the NL Central. St. Louis and Milwaukee also won Tuesday night, so the Cubs remained two games ahead of the Cardinals and 2 ½ games better than the third-place Brewers.
Tonight
Detroit (Farmer 4-2) at Cleveland (Clevinger 9-5), 12:10 p.m.      WSJM Sports/Cosy-FM 11:45 p.m.
Chicago White Sox (Giolito 2-2) at Kansas City (Skoglund 1-2), 2:15 p.m.
N.Y. Mets (Harvey 5-4) at Chicago Cubs (Lester 10-7), 8:05 p.m.
MLB – Verlander has another stellar outing for Houston
Justin Verlander pitched eight innings of one-hit ball in a stellar second start for Houston, and the Astros snapped their four-game skid with a 1-0 victory over the Los Angeles Angels on Tuesday night. Yuli Gurriel's second-inning single drove in the only run for the Astros (87-57), who lowered their magic number for clinching the AL West title to five by blanking the Angels (73-71).
MLB – Tigers DH Martinez, RHP Fulmer have successful surgeries
The Detroit Tigers say designated hitter Victor Martinez underwent a successful surgical procedure to correct an irregular heartbeat, and starter Michael Fulmer had season-ending surgery on his elbow. Martinez had a heart ablation on Monday in Detroit. Manager Brad Ausmus says the five-time All-Star is now recovering at home. Martinez has been on the disabled list since Aug. 27 following the second occurrence of an irregular heartbeat this season.  Fulmer underwent an ulnar nerve transposition surgery Tuesday in Pensacola, Florida. Dr. James Andrews performed the operation on last season's AL Rookie of the Year, who is expected to be medically cleared in time for the start of spring training. The right-hander had been experiencing numbness in his fingers. Fulmer made his last start on Aug. 29.
NFL – Lions sign new punter, put Redfern on IR
The Detroit Lions have signed punter Jeff Locke after Kasey Redfern went down with a knee injury in the season opener. The Lions announced Tuesday they were putting Redfern and offensive tackle Corey Robinson on injured reserve. Robinson has a foot injury. Detroit also signed offensive tackle Emmett Cleary. With punter Sam Martin on the non-football injury list, the Lions went with Redfern in their 35-23 win over Arizona last weekend, but he was injured in the first quarter and kicker Matt Prater had to take over punting duties. Locke spent time with Indianapolis this preseason after four seasons with Minnesota.
NFL – Bears place linebacker Jerrell Freeman on injured reserve
The Chicago Bears have placed inside linebacker Jerrell Freeman on injured reserve, another hit for a team coming off a three-win season. A sixth-year pro, Freeman suffered a pectoral injury and concussion in a season-opening loss to Atlanta on Sunday. Freeman led Chicago with 110 tackles, a team-high 86 solo, last season. He was with the Colts from 2012-2015.  The Bears also placed receiver Kevin White on injured reserve for the third straight season Tuesday because of a broken shoulder. Receiver Tanner Gentry and linebacker Jonathan Anderson were promoted from the practice squad. Nick Kwiatkoski figures to replace Freeman in the lineup.  The Bears, last in the NFC North in 2016, visit Tampa Bay this week.
NFL – Lewis, Moss, Urlacher among first-year nominees for HOF
Star linebackers Ray Lewis and Brian Urlacher and game-breaking wide receiver Randy Moss are among 11 first-year eligible players for the Pro Football Hall of Fame. Also part of the 108 early nominees who are eligible for the first time, having been retired for five years when the class is chosen next February, are cornerback Ronde Barber, wideouts Donald Driver and Steve Smith (former Giant, Eagle and Ram), offensive linemen Steve Hutchinson, Matt Birk, and Jeff Saturday, and defensive linemen Richard Seymour and Kyle Vanden Bosch.
NCAA Football – Kelly wants improvement from QB Wimbush, receivers
Two games into the season, Notre Dame coach Brian Kelly considers junior quarterback Brandon Wimbush a work in progress – and his receiving corps the same. "I think he learned a lot from that game," Kelly at Tuesday, three days after the Fighting Irish lost at home to Georgia, 20-19. "I think it will be a springboard for him." Wimbush, who played sparingly his freshman year and then sat out last season, had 290 total yards (106 rushing, 184 passing) and three touchdowns in Notre Dame's season-opening, 49-16 victory over Temple. But against a quicker, stronger and more deceptive Georgia defense, Wimbush seemed slow at times in his decision-making. Though he was 20-of-40 passing for 210 yards, Wimbush was sacked three times, lost two second-half fumbles and managed just one net rushing yard on 16 attempts.
NCAA Football – Early open date allows Spartans to help with Harvey relief
About a dozen Michigan State players are expected to travel to Texas later this week to help relief efforts in the wake of Hurricane Harvey.  Offensive lineman Tyler Higby, who is from Houston, says the players will all be staying at his house and spending a couple days helping the community. The Spartans have an open date on their schedule this weekend. Higby says the support from his teammates means a lot, since players don't get much time off during the season. He expects to head down Friday and return Sunday. Coach Mark Dantonio says his players are making the trip for the right reasons.
NCAA Football – Big Ten – Big Ten will increase Week 1 conference games in 2020, '21
The Big Ten will increase its number of conference football games in the opening weeks of the season in 2020 and 2021. There also is a change in rivalry week in schedules announced Tuesday. Iowa will meet Wisconsin and Nebraska will play Minnesota the last week of the regular season in 2020 and 2021. Iowa and Nebraska have closed the regular season against each other since the Cornhuskers joined the conference in 2011. East Division teams will have five home conference games and West teams will have four in 2020. The split will be reversed in 2021. The 2020 season opens Sept. 5 with Indiana at Wisconsin, Northwestern at Michigan State and Purdue at Nebraska. The 2021 season opens Sept. 4 with Indiana at Iowa, Michigan State at Northwestern, Ohio State at Minnesota and Penn State at Wisconsin.
NCAA – Mississippi's NCAA infractions hearing ends after 2 days
Mississippi's hearing with the NCAA's infractions committee has ended after two days of meetings. Ole Miss athletics director Ross Bjork confirmed the hearing was finished on Tuesday, but had no further comment. The NCAA had set aside up to three days to discuss the case. The Rebels are facing 21 allegations, including 15 classified as Level I, which the NCAA deems the most serious. The charges in the wide-ranging case involve academic, recruiting and booster misconduct. The school has already self-imposed several penalties, including a postseason ban for this season, three years of probation, scholarship losses and recruiting restrictions. The NCAA can accept the Rebels' self-imposed penalties or add to them when it reaches a decision, which could take several weeks to months.
NBA – Charles Oakley sues Knicks owners, claiming defamation
Former New York Knicks star Charles Oakley has sued the team's owners, saying he was defamed when they claimed he committed assault and was an alcoholic. The lawsuit details how Oakley was treated before and after he was forcefully removed from Madison Square Garden during a Feb. 8 game. The lawsuit filed Tuesday seeks unspecified damages. A Knicks spokesman did not immediately comment. The lawsuit says Knicks owner James Dolan "constantly disrespected" Oakley, refusing to make eye contact or shake his hand during meetings and making him pay for his own tickets to games. Oakley was a Knicks fan favorite from 1988 to 1998. He was accused of striking a security guard during the February fracas. Last month, prosecutors agreed to dismiss charges after six months of good behavior.
MHSAA – Fennville football coach suspended two games
Fennville high school football Brian Sackett has been suspended for two games for an incident with a player in last Friday's 40-20 loss at Coloma.   An investigation by the school determined that Sackett grabbed one of his players by the collar of his jersey and shook him while yelling at him for 10 seconds, the player got away once before Sackett grabbed the player again and threw him to the ground.   Sackett will miss Fennville's home game this Friday against Kalamazoo United and next week's game at Martin.   Fennville is currently 0-3 this season.   The Blackhawks assistant coaches will run the team during Sackett's suspension.
MHSAA – High School Sports
Last Night
Girls Volleyball
Hartford 3, Eau Claire 0
Decatur 3, Marcellus 0
Coloma 3, Gobles 0
Watervliet 3, Martin 1
Grace Christian 3, Countryside 0
Lawrence 3, Fennville 0
Boys Tennis
St. Joseph 8, Niles 0
Boys Soccer
Lakeshore 3, Portage Northern 1
Portage Central 5, St. Joseph 0
Girls Swimming and Diving
Bridgman/Lakeshore 126, St. Joseph 60
Tonight
Boys Soccer
New Buffalo at Michigan Lutheran, 5:00 p.m.
Lake Michigan Catholic at Covert, 5:00 p.m.
South Haven at Plainwell, 6:45 p.m.
Three Rivers at Dowagiac, 6:45 p.m.
Vicksburg at Allegan, 6:45 p.m.
Otsego at Edwardsburg, 6:45 p.m.
Paw Paw at Sturgis, 6:45 p.m.
Bridgman at Buchanan, 5:00 p.m.
Brandywine at Comstock, 5:00 p.m.
Cassopolis at Bangor, 7:00 p.m.
Fennville at Delton-Kellogg, 6:00 p.m.
Saugatuck at Gobles, 5:00 p.m.
Lawton at Kalamazoo Christian, 5:00 p.m.
Girls Volleyball
Kalamazoo Central at St. Joseph, 6:30 p.m.
Lakeshore at Matttawan, 6:30 p.m.
Battle Creek Lakeview at Niles, 6:30 p.m.
Bridgman at Buchanan 6:30 p.m.
Brandywine at Comstock, 6:00 p.m.
Girls Golf
SMAC West Jamboree, 3:30 p.m. 
(The Moors Golf Club, Portage)