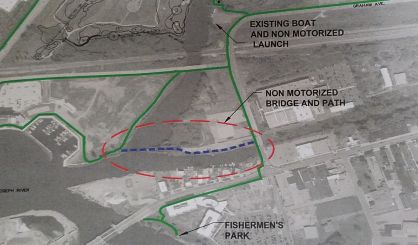 St. Joseph City Commissioners have given the green light to a pedestrian bridge over the Paw Paw River from the Harbor Village neighborhood by Harbor Shores. At a Monday meeting, Rob Cleveland with Cornerstone Alliance said it will enhance mobility in the area.
"Folks from the hotel, folks from Upton Drive will be able to walk all the way up from the Benton Harbor Arts District," Cleveland told WSJM News.
The bridge would connect Benton Harbor with St. Joe, and city commissioners in Benton Harbor will now be asked to approve it. The pedestrian bridge would be 12 feet wide and 210 feet long, made of concrete and steel. Grants are being sought to pay for it with a hope it could be in place by the 2018 Senior PGA Championship.