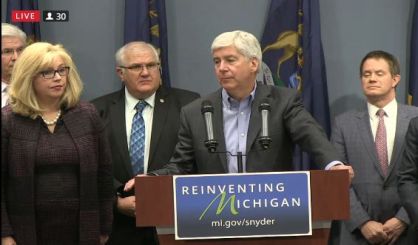 A push is being made by the state legislature and the governor to fight the abuse of prescription opioids. Governor Rick Snyder and state Senator Tonya Schuitmaker were among the officials on hand for a press conference Thursday to discuss the issue. Schuitmaker announced legislation to have doctors do checks of a patient's history before prescribing them addictive substances.
"Updates to the Michigan Automated Prescription System will allow this existing tool to be utilized to effectively prevent doctor shopping and diversion of controlled substances," Schuitmaker said. "It's time we begin to look at the front lines of where drug addiction starts."
The governor also lauded the state's good Samaritan law,which lets people report overdoses without fear of being prosecuted, as well as expanded police access to anti-overdose drugs. He said fighting the growing problem of opioid abuse will require everyone to look at it like a health issue, and not a criminal one. That's why the legislative push will also include educational components.