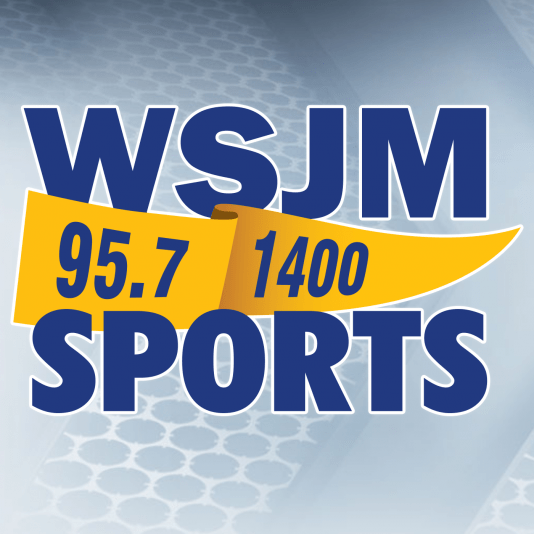 95.7 & 1400 WSJM Sports     @wsjmsports     wsjmsports.com     Monday, March 20, 2017
NCAAMBB – Men's College Basketball – NCAA Tournament
Last Night
(7) Michigan 73, (2) Louisville 69
(1) Kansas 90, (9) Michigan St. 70
(7) South Carolina 88, (2) Duke 81
(3) Baylor 82, (11) Southern Cal 78
(2) Kentucky 65, (10) Wichita St. 62
(1) North Carolina 72, (8) Arkansas 65
(3) UCLA 79, (6) Cincinnati 67
(3) Oregon 75, (11) Rhode Island 72
Michigan 73, Louisville 69 – Wagner's big game sends Michigan past Louisville
Moe Wagner scored a career-high 26 points and spurred a furious second-half rally to send Michigan past second-seeded Louisville 73-69 on Sunday and into the Sweet 16. The seventh-seeded Wolverines (26-11) have won seven straight _ six since a frightening plane accident before the Big Ten Tournament. They also earned a ticket to the Midwest Regional in Kansas City, Missouri, their first since 2014. Donovan Mitchell scored 19 points and Deng Adel had 16 points to lead Louisville (25-9), which had made the Sweet 16 in its last four NCAA Tournament appearances.  But Wagner bailed out the Wolverines from a poor game. Trailing 45-36 with 16:09 to play, the German native scored on a layup to start a 17-6 run that gave Michigan its first lead since the opening minutes. And after Wagner's 3-pointer broke a 55-55 tie with 6:39 to go, the Wolverines led the rest of the way.
Kansas 90, Michigan State 70 – Jackson's strong second half lifts Kansas past Spartans
Josh Jackson scored 14 of his 23 points in the second half to help Kansas pull away late and reach the Sweet 16 for a second straight year with a 90-70 victory over Michigan State on Sunday. Frank Mason the Third added 20 points for the top-seeded Jayhawks (30-4), who have advanced to the second weekend of the NCAA Tournament in nine of coach Bill Self's 14 seasons. Devonte' Graham added 18 points and Landen Lucas had 10 for the Jayhawks, who shot 53.1 percent (34 of 64) in the win. Miles Bridges scored 22 points to lead Michigan State (20-15) despite leaving briefly in the first half with an injury. Nick Ward also finished in double figures with 13 points and Joshua Langford had 10 for the Spartans.
NCAAWBB – Women's NCAA Tournament
Yesterday
(1) Notre Dame 88, (9) Purdue 82 – OT
(3) Maryland 83, (6) West Virginia 56
(2) Mississippi State 92, (7) DePaul 71
(3) Florida State 77, (6) Missouri 55
(5) Ohio State 82, (4) Kentucky 68
(3) Texas 84, (6) North Carolina State 80
(1) South Carolina 71, (8) Arizona St. 68
(2) Oregon State 64, (7) Creighton 52
Today
(8) Syracuse Vs. (1) UConn, 6:35 P.M.
(7) Kansas State Vs. (2) Stanford, 6:35 P.M.
(10 Oregon Vs. (2) Duke, 6:40 P.M.
(5) Tennessee Vs. (4) Louisville, 6:45 P.M.
(6) Oklahoma Vs. (3) Washington, 9:05 P.M.
(9) California Vs. (1) Baylor, 9:10 P.M.
(12) Quinnipiac Vs. (4) Miami-FL, 9:10 P.M.
(5) Texas A&M Vs. (4) UCLA, 10:05 P.M.
Notre Dame 88, Purdue 82 – OT – Mabrey scores 21 as Notre Dame survives Purdue 88-82 in OT
Marina Mabrey scored 21 points, Arike Ogunbowale added 18 and Number 1 seed Notre Dame survived playing the second half without leading scorer Brianna Turner to beat ninth-seeded Purdue 88-82 in overtime Sunday night, advancing to the Sweet 16. The Irish used a 6-0 run in OT to open an 82-78 lead when Jackie Young and Lindsay Allen scored inside and Mabrey banked in a jumper. Purdue narrowed the lead to 82-80 when Bridget Perry, who finished with 22 points, made a pair of free throws with 34.2 seconds left. Mabrey then made two free throws for the Irish with 13 seconds left.  Ae'Rianna Harris scored inside for Purdue (23-13) to make it 84-82. Ogunbowale capped off the win with a pair of free throws with with 8.7 seconds left and two more with 0.1 seconds left. The Irish (32-3) won despite Turner, who averages 15.5 points a game, leaving with a left knee injury after landing awkwardly trying to catch a pass in the final minute of the first half. Turner finished with 10 points and one rebound.
MLB – Major League Baseball – Spring Training
Yesterday
Detroit 7, Baltimore 1
Chicago White Sox 11, LA Angels 2
Kansas City 6, Chicago Cubs 2
Today
N.Y. Mets vs. Detroit at Lakeland, Fla., 1:05 p.m.
San Francisco vs. Chicago White Sox at Glendale, Ariz., 4:05 p.m.
Chicago Cubs vs. Colorado at Scottsdale, Ariz., 4:10 p.m.
NBA – National Basketball Association
Last Night
Detroit Pistons 112, Phoenix Suns 95
Toronto Raptors 116, Indiana Pacers 91
Pistons 112, Suns 95 – Pistons finish strong, beat short-handed Suns 112-95
Kentavious Caldwell-Pope scored 23 points and the Detroit Pistons overcame a sluggish performance for the much of the game, finally pulling away from the short-handed Phoenix Suns for a 112-95 victory Sunday. The Suns were without several top players, but they still led the playoff-chasing Pistons 65-53 in the third quarter. Detroit finished strong in that period and then built a double-digit lead of its own in the fourth. Andre Drummond had 18 points and 18 rebounds for the Pistons, and Aron Baynes had 13 points and 17 rebounds.  Tyler Ulis had 17 points and 11 assists for the Suns. Phoenix was without guard Devin Booker (right ankle), guard Ronnie Price (left leg), guard Leandro Barbosa (illness) and forward Dragan Bender (right ankle). The Suns have also been playing without Eric Bledsoe, Brandon Knight and Tyson Chandler, choosing to give young players more time.
Raptors 116, Pacers 91 – Raptors rout Pacers 116-91 in first meeting since playoffs
DeMar DeRozan scored 22 points in three quarters, and all five Toronto starters were in double figures as the Raptors beat the Indiana Pacers 116-91 on Sunday night. DeRozan added four assists and three rebounds and was able to rest the entire fourth quarter as the Raptors cruised to their second straight victory. Serge Ibaka had 16 points, while Jonas Valanciunas finished with 11 points and 13 rebounds as the Raptors improved to 41-29. Paul George had 18 points and Jeff Teague and Thaddeus Young added 16 apiece for the Pacers, who lost to Toronto for the eighth time in the last nine regular-season meetings. It was the first meeting between the teams since Game 7 of last year's first-round playoff series, which was won by Toronto. They face each other twice more over the next two weeks.
Tonight
Utah Jazz at Indiana Pacers, 7:00 p.m.
NHL – National Hockey League
Last Night
Chicago Blackhawks 6, Colorado Avalanche 3
Blackhawks 6, Avalanche 3 – Blackhawks strike fast in third, rally past Avs 6-3
Jonathan Toews scored twice and Richard Panik and Artemi Panarin each had one in a span of 3:02 in the third period to erase Colorado's two-goal lead and rally the Chicago Blackhawks past the Avalanche 6-3 on Sunday night for their fifth straight win. Patrick Kane scored his team-leading 32nd goal and Marcus Kruger added an empty-netter for Chicago, which won for the 17th time in its last 20 games to pull seven points ahead of slumping second-place Minnesota in the Central Division. With Chicago trailing 3-1, Toews tipped in Kane's bouncing shot at 10:17 of the third period to cut it to 3-2. The goal withstood a video review that showed Toews may have been offside. Panik rifled in a loose puck from the slot 17 seconds later to tie it at 3. Panarin put Chicago ahead 4-3 just 17 seconds after that.
Tonight
Buffalo Sabres at Detroit Red Wings, 7:30 p.m.
NASCAR – Newman wins Cup race
Ryan Newman's late gamble allowed him to win the Monster Energy Cup race at Phoenix International Raceway. Newman skipped a tire-changing pit stop to take the lead from deep of the pack. He held on for the final two laps to break a 127-race winless streak. Newman also halted a 112-race losing skid for Richard Childress Racing. Kyle Larson finished second for the third straight race. Kyle Busch was the leader for almost all of the final stage before taking third.  Larson and Busch went to the pits on the late caution caused when Joey Logano's car blew a right tire and slammed into the wall six laps from the finish. Ricky Stenhouse was fourth, followed by Brad Keselowski.
Comments