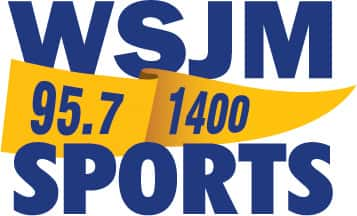 95.7 & 1400 WSJM Sports @wsjmsports wsjmsports.com Thursday, February 16, 2017
NHL – National Hockey League
Last Night
St. Louis Blues 2, Detroit Red Wings 0
Blues 2, Red Wings 0 – Carter Hutton helps Blues beat Red Wings 2-0
Carter Hutton made 25 saves for his second straight shutout, Ivan Barbashev scored 2:06 into the game and Jaden Schwartz had an empty-net goal in the final seconds, helping the St. Louis Blues beat the Detroit Red Wings 2-0 Wednesday night. The Blues have won a season-high five straight games, and coach Mike Yeo has won six of seven since replacing the fired Ken Hitchcock. Detroit has dropped five straight games for the second time in less than a month, matching its season-long losing streak. Detroit also lost five straight following a 6-2 start to what's become a difficult season. The Red Wings played their first home game since team owner Mike Ilitch died Friday.
NHL – Red Wings forward Gustav Nyquist suspended 6 games
Detroit Red Wings forward Gustav Nyquist was suspended for six games without pay by the NHL on Wednesday for high-sticking Minnesota Wild defenseman Jared Spurgeon in the face. On Sunday in Minnesota's 6-3 home victory, Spurgeon knocked Nyquist to the ice, and Nyquist came up swinging, using the blade of his stick to spear Spurgeon just below his left eye. Nyquist was called for a double-minor for high-sticking. Spurgeon missed a few shifts while getting stitches in his cheek. The suspension will cost Nyquist $158,333. The 27-year-old Swede has seven goals and 22 assists in 56 games this season.
NCAAMBB – Men's College Basketball
Tonight
(21) Wisconsin at Michigan, 7:00 p.m. 95.7 & 1400 WSJM Sports 6:30
NBA – National Basketball Association
Last Night
Detroit Pistons 98, Dallas Mavericks 91
Cleveland Cavaliers 113, Indiana Pacers 104
Pistons 98, Mavericks 91 – Jackson, Leuer lead Pistons to 98-91 win over Mavericks
Reggie Jackson scored 22 points, Jon Leuer added 20 and the Detroit Pistons beat the Dallas Mavericks 98-91 Wednesday night. Kentavious Caldwell-Pope had 16 points, Tobias Harris 13 and Ish Smith 10 for the Pistons, led by 27 at halftime before holding on for the win. Detroit outrebounded Dallas 56-36, led by Marcus Morris' 13, Andre Drummond's 11 and Aron Baynes' 11. Dirk Nowitzki had 13 of his 24 points in the third quarter to help the Mavericks rally. Dallas pulled within eight early in the fourth. Nowitzki also had 10 rebounds. Harrison Barnes added 16 points, Seth Curry had 13 and Deron Williams 12. The Pistons never trailed, taking a 10-0 lead to start the game, making 52.1 percent of their shots in the first half and leading 62-35 at the break.
Cavaliers 113, Pacers 104 – Korver rains 3s on Pacers
On a team that features LeBron James, Kyrie Irving and the injured Kevin Love, Kyle Korver has had a lot to do with the Cleveland Cavaliers' ability to go 7-1 so far this month. Korver went 6-for-8 from 3-point range and finished with 22 points as the Cavs knocked off the visiting Indiana Pacers, 113-104. He became the seventh player with 2,000 career 3s, one week after going 8-for-9 from beyond the arc in a win at Indiana. The 35-year-old Korver has caught fire in February, shooting a ridiculous 64 percent from 3-point range while averaging 15.4 points a game. He averaged 7.8 points in his first 11 games with Cleveland after being acquired from Atlanta on Jan. 7. Korver's hot streak began shortly after James implored management to get the team another playmaker. James scored 31 points and Irving added 26 to help the Cavaliers improve to 39-16, tops in the NBA's Eastern Conference.
Tonight
Washington Wizards at Indiana Pacers, 7 p.m.
Boston Celtics at Chicago Bulls, 8 p.m.
NCAAWBB – Women's College Basketball
Last Night
Western Michigan 74, Bowling Green 53
Central Michigan 70, Ohio 64
Buffalo 56, Eastern Michigan 52
Tonight
#20 Michigan at Indiana, 6:00 p.m.
Minnesota at Michigan State, 7:00 p.m.
#7 Notre Dame at Clemson, 7:00 p.m.
NCAAFB – Row the Boat to Minnesota: Fleck, WMU reach deal on slogan
The Minnesota football coach and his former employer, Western Michigan, reached an agreement Wednesday that will give Fleck legal intellectual property of the catchphrase he made famous in four seasons with the Broncos. As part of the deal announced by Western Michigan, Fleck will make a yearly gift of $10,000 to the school to support a football scholarship. The Fleck Family Football Scholarship will begin this fall. The school says it will be allowed to use "Row the Boat" in materials "recognizing and celebrating Fleck's tenure at WMU and the teams he coached." Fleck led the Broncos to a 13-0 regular season and a Cotton Bowl appearance against Wisconsin last year before leaving in January to become head coach at Minnesota.
MLB – Jake Arrieta hopeful of landing extension to stay with Cubs
Jake Arrieta is hopeful of receiving a contract extension with the Chicago Cubs before he hits free agency after this season, yet he also realizes this could be his final year with the club if talks don't materialize. The ace right-hander and 2015 NL Cy Young Award winner landed a one-year deal for $15,637,500 last month. As the reigning World Series champions geared up for the first pitchers and catchers workout, Arrieta insisted Wednesday that his future isn't going to be something he allows to be a distraction at the start of spring training. Arrieta says, "I don't want to see that time come to an end, my time as a Cub." He came to the Cubs in a trade from Baltimore in 2013 and helped them end a 108-year championship drought.
MLB – Spring Training
Last Night
Florida Southern University vs. Detroit Tigers, 1:05 p.m. (Lakeland, FL)
NFL – Lions to invest $100 million in improvements to Ford Field
The Detroit Lions have begun a $100 million renovation to spruce up Ford Field, a project that's scheduled to be completed before next season starts. Team president Rod Wood says the improvements will make the facility ready to host another Super Bowl. Pittsburgh beat Seattle to win a Super Bowl at Ford Field in February 2006. Wood says the 15-year-old stadium was due for a significant upgrade. The highlight of the changes may be 152-foot wide videoboards above each end zone that will rank among the ten largest in the NFL after the original ones were among the league's smallest last season. The Lions are also renovating 210,000 square feet of space throughout the facility, including its suites and club seats .
NFL – Chicago Bears sign OL Eric Kush to 2-year contract
The Chicago Bears have signed offensive lineman Eric Kush to a two-year contract. Kush made a career-high four starts and played in eight games for Chicago last season. He has appeared in 18 games with five starts for the Kansas City Chiefs (2013-14), St. Louis Rams (2015) and Bears (2016). He has also spent time with the Tampa Bay Buccaneers (2015) and Houston Texans (2015) and the Carolina Panthers' practice squad (2015). The Bears announced the move on Wednesday.
President nixes ESPN bracketology offer
President Donald Trump won't be filling out an NCAA Tournament bracket on ESPN this March, unlike his predecessor, Barack Obama. ESPN spokesman Josh Krulewitz says the network expressed its interest to the White House in continuing the presidential bracket and was "respectfully declined." Obama is a huge and knowledgeable basketball fan. He would join the network on-camera and make his March Madness picks for both the men's and women's brackets.
MCCAAWBB – Junior College Basketball – Women
Last Night
Lake Michigan College 74, Grand Rapids Community College 46
Lake Michigan College kept pace in the MCCAA Western Conference race with a 74-46 win over Grand Rapids. Hailey Maas led the Lady Red Hawks with a game high 20 points, Kelsee Kinder added 18. With Muskegon losing to Kalamazoo Valley, LMC now has sole possession of second place in the conference, one game behind KVCC.
MCCAAMBB – Junior College Basketball – Men
Last Night
Grand Rapids Community College 102, Lake Michigan College 93
Lake Michigan College dropped a 102-93 decision to Grand Rapids Community College. Trailing by as many as 21, the Red Hawks pulled to within nine, but couldn't get any closer. Jeffrey Drake-Todd led the Raiders with a game high 29 points. Jason Walter scored 20 in the loss for LMC.
AHL – American Hockey League
Yesterday
Grand Rapids Griffins 7, Manitoba Moose 5
MHSAA – High School Sports
Last Night
Girls Basketball
Edwardsburg 55, St. Joseph 51 – OT
St. Joe rallied to force overtime, but Edwardsburg converted back to back turnovers into breakaway layups and held on to beat St. Joseph 55-51 in overtime at the Bear Den on Wednesday. Kaitlyn Zaricki and Noelle Krause each had 15 points to lead the Eddies. Shelby Madison had 15 points to lead St. Joe, but fouled out before the overtime. Anna Fischer added 14 for St. Joe, who host Niles on Friday.
Schoolcraft 56, Sturgis 43
Wrestling Regionals
Division 2 at Lakeshore
Niles 51, Mattawan 19
Coldwater 51, Harper Creek 12
Championship – Niles 48, Coldwater 21
Division 3 at Coloma
Constantine 48, Coloma 31
Lake Odessa Lakewood 75, Hopkins 6
Championship – Lake Odessa Lakewood 63, Constantine 18
Division 4 at Mendon
Bronson 72, Reading 12
Decatur 60, Brandywine 14
Championship – Bronson 37, Decatur 32
Tonight
Boys Basketball
Dream Academy at Lake Michigan Catholic, 6:00 p.m.
Wyoming Potter's House Christian at Howardsville Christian, 7:30 p.m.
Boys Swimming
Portage Central at St. Joseph, 6:00 p.m.