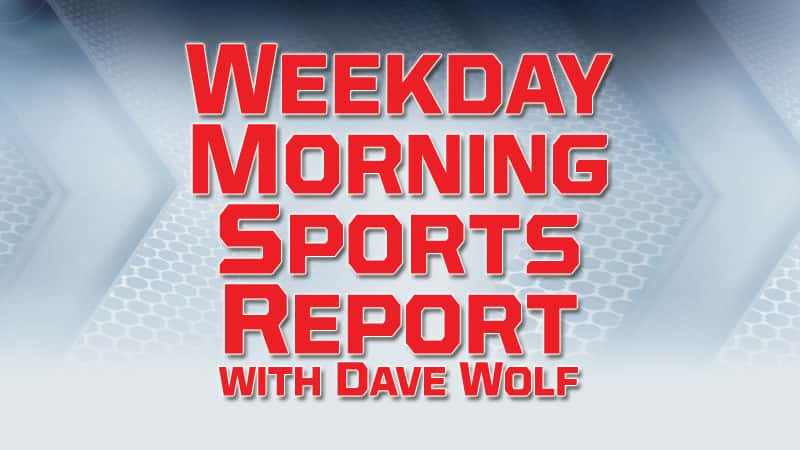 95.7 & 1400 WSJM Sports     @wsjmsports     wsjmsports.com     Wednesday, February 15, 2017
NCAAMBB – Men's College Basketball
Tonight
Michigan State 74, Ohio State 66
(25) Notre Dame 84, Boston College 76
Western Michigan 89, Bowling Green 79
Buffalo 99, Central Michigan 93
Ohio 79, Eastern Michigan 71
Michigan State 74, Ohio State 66 – Ellis' 3-pointers help Michigan State beat Ohio State 74-66
Alvin Ellis scored 15 of his 18 points with a 3-point barrage in the first half and Michigan State went on to beat Ohio State 74-66 Tuesday night. Miles Bridges had 17 points and 11 rebounds and Nick Ward scored 15 for Michigan State (16-10, 8-5 Big Ten), which has won four of five.  The Buckeyes (15-12, 5-9) have lost four of six. Ohio State's Marc Loving scored 22 points and reserve JaQuan Lyle scored all 10 of his points in the first half. Ellis made five 3-pointers in a 3:38 span of the first half, helping the Spartans take a 21-12 lead and stunning the crowd because the senior was averaging just six points a game. The Spartans scored the first six points of the second half, building a 12-point lead. Ohio State rallied with a 17-6 run to pull within one point.  Michigan State finished off the Buckeyes by outscoring them 12-2 to take an 11-point lead and they were able to keep a comfortable cushion.
#25 Notre Dame 84, Boston College 76 – No. 25 Notre Dame rallies for 84-76 win over BC
Bonzie Colson scored 20 points, Matt Farrell had 19 and No. 25 Notre Dame overcame a 13-point first-half deficit for an 84-76 victory over Boston College on Tuesday night, sending the Eagles to their 10th straight loss. V.J. Beachem had 16 points and Steve Vasturia added 15 for the Fighting Irish (20-7, 9-5 Atlantic Coast Conference). It is coach Mike Brey's 13th time winning at least 20 games with Notre Dame. Ky Bowman led Boston College (9-18, 2-12) with 29 points and Mo Jeffers had 12.  BC had sliced it to 78-76 on Bowman's two free throws with just under a minute to play, but Beachem grabbed an offensive rebound and was fouled on the ensuing possession. He hit both free throws with 24.1 seconds to play.
WMU 89, Bowling Green 79 – Wilder scores 38, W. Michigan defeats Bowling Green 89-79
Thomas Wilder went off for a career-high 38 points _ 31 after halftime _ as Western Michigan broke away late from Bowling Green in an 89-79 win last night, continuing a late-season surge. Western Michigan has won three straight and four of five, rebounding from a four-game losing streak.
Buffalo 99, CMU 93 – Massinburg scores 6 in final minute, lifts Buffalo past CMU
Willie Conner scored 22 points, and CJ Massinburg had six of his 20 points in the final minute to help Buffalo pull away and beat Central Michigan 99-93 last night for its fifth straight win. Conner was 7 of 13 from the floor and made four 3-pointers.
Ohio 79, EMU 71 – Dartis perfect at line in Ohio's 79-71 win over E. Michigan
Jordan Dartis scored a career-high 26 points and made all 12 of his free throws, Jason Carter had 11 points and 14 rebounds and Ohio held off a late Eastern Michigan rally for a 79-71 win last night. Willie Mangum IV led Eastern Michigan with 19 points.
NCAAWBB – Women's College Basketball
Tonight
Western Michigan at Bowling Green, 7:00 p.m.
Central Michigan at Ohio, 7:00 p.m.
Buffalo at Eastern Michigan, 7:00 p.m.
NHL – National Hockey League
Tonight
St. Louis Blues at Detroit Red Wings, 8:00 p.m.
NBA – National Basketball Association
Last Night
Chicago Bulls 105, Toronto Raptors 94
Bulls 105, Raptors 94 – Bulls beat Raptors for 11th straight time, 105-94
Doug McDermott scored 20 points, All-Star Jimmy Butler had 19 points and 12 assists in his return to the lineup, and the Chicago Bulls continued their mastery over the Toronto Raptors in a 105-94 victory on Tuesday night. Taj Gibson had 14 points and Rajon Rondo added 12 to help the Bulls beat the Raptors for the 11th straight time. Toronto's last win in the series was Dec. 31, 2013.  Chicago led by as many as 23 points and never trailed in the final three quarters to snap a three-game skid. Kyle Lowry scored 22 points to lead the Raptors, who lost their third straight and fell one-half game behind idle Atlanta for the No. 4 seed in the Eastern Conference. DeMar DeRozan was limited to 18 points _ 10 below his season average. He was whistled for his second technical found in the final minute and ejected from the game.
Tonight
Indiana Pacers at Cleveland Cavaliers, 7:00 p.m.
Dallas Mavericks at Detroit Pistons, 7:30 p.m.
NCAAFB – Michigan St. names suspended staffer in football program
Michigan State has identified a suspended member of the football staff who specializes in mentoring athletes. University spokesman Jason Cody says Curtis Blackwell was suspended with pay. He wouldn't offer any other details Tuesday or say whether Blackwell is the staff member who was suspended last week as part of an investigation into an alleged sexual assault involving three players. Since 2013, Blackwell has been the team's director of college advancement and performance. The team's website says he focuses on leadership, graduation and career objectives. He's also involved in recruiting. Blackwell coached high school football at Detroit King and Detroit Mackenzie from 2003 to 2007.
SI – Kate Upton three-peats as SI's swimsuit queen
She's once, twice, three times a Sports Illustrated swimsuit cover lady.  Kate Upton is once again gracing the cover of the annual issue, becoming only the fourth woman to do so three times. This year, she's making the splash with three different covers. Other women who did the cover three times include Tyra Banks, Heidi Klum and Christie Brinkley, who also is featured in this year's edition with her two daughters. Elle Macpherson holds the record with five cover appearances.  Other notables in this year's edition include former cover girl Chrissy Teigen, an expectant mother and athletes including tennis champ Serena Williams and Olympic gold medal gymnast Simone Biles.
MCCAAWBB – Junior College Basketball – Women
Tonight
Grand Rapids Community College at Lake Michigan College, 5:30 p.m.    95.7 & 1400 WSJM Sports
MCCAAMBB – Junior College Basketball – Men
Tonight
Grand Rapids Community College at Lake Michigan College, 7:30 p.m.    95.7 & 1400 WSJM Sports
AHL – American Hockey League
Today
Manitoba Moose at Grand Rapids Griffins, 11:00 p.m.
ECHL – East Coast Hockey League
Yesterday
Kalamazoo Wings 3, Fort Wayne Komets 1
MHSAA – High School Sports
Last Night
Boys Basketball
Benton Harbor 73, Muskegon Heights 59
Benton Harbor held on for a 73-59 win over Muskegon Heights.  The Tigers led by as many as 24 points, the Heights cut it to nine in the 4th quarter, but couldn't get any closer.  Shawn Hopkins led Benton Harbor with a game high 23 points.  Roy Anderson and Elijah Baxter added 11 and 10 respectively.  With the win, Benton Harbor improves to 16-1 on the season and completes a season sweep of Muskegon Heights.
St. Joseph 63, Dowagiac 59 – OT
St. Joe and Dowagiac needed an extra four minutes to decide their non conference game last night, after the Chieftains Adrien Bucha-Moore tied the game at 54 on a three pointer with 2.8 seconds left.  St. Joe then outscored Dowagiac 9-5 in the overtime going 5 of 6 from the free throw line to pull out a 63-59 win.  Three Bears were in double figures, led by Michael Hunn with 17 points.  Trevor Dilley had 13 and Cade Shimulunas had 12.   Bucha-Moore had a game high 19 points to lead Dowagiac in the loss.  St. Joe ups their record to 8-7 and will host Niles in a SMAC West division game on Friday.
Mishawaka Marian (IN) 49, Lakeshore 43
Lakeshore entered the final quarter with a 41-38 lead over Marian, but the visitors from the Hoosier state outscored the Lancers 11-2 in the quarter for a 49-43 win.  Max Gaishin had 14 points to lead Lakeshore, Colin Brushwyler added 12 and Luke Meyer had 11 in defeat.  The Lancers fall to 6-10 and travel to 5-10 Dowagiac on Saturday afternoon.
Eau CLaire 57, Lawton 45
Dorian Thomas poured in a game high 30 points for Eau Claire, giving the Beavers a 57-45 win over Lawton.   Jomel Armstead chipped in 10 points for Eau Claire.
Lake Michigan Catholic 73, Countryside 38
Michigan Lutheran 43, Bangor 39
Vicksburg 64, Mattawan 59
Elkhart Central (IN) 55, Edwardsburg 32
Fennville 61, Bridgman 41
Buchanan 68, New Buffalo 63 – OT
Bloomingdale 62, Constantine 38
Kalamazoo Hackett 82, Decatur 40
Galesburg-Augusta 64, Lawrence 34
Paw Paw 85, Comstock 72
Delton Kellogg 56, Marcellus 53
Kalamazoo Christian 53, Martin 22
Kalamazoo Hackett 82, Decatur 40
Portage Central 44, Battle Creek Lakeview 40
Kalamazoo Central 57, Battle Creek Central 48
Kalamazoo Loy Norrix 44, Gull Lake 40
Girls Basketball
Michigan Lutheran 49, Bangor 30
Erika Rosenbaum scored 14 points, all in the second half to help lead Michigan Lutheran to a 49-30 win over Bangor.  Emily Witkowski lead the Titans with 17 points as Lutheran improves to 15-2 on the season.   Sarah Jackemeyer added 8 points and 13 rebounds for ML.
Lake Michigan Catholic 29, Countryside 16
Otsego 65, Dowagiac 28
Coloma 28, Berrien Springs 27
Cassopolis 35, Bridgman 31
Eau Claire at Lawton, 7:00 p.m.
Constantine 49, Bloomingdale 22
Delton-Kellogg 36, Marcellus 34 – OT
Galesburg-Augusta 49, Lawrence 33
Kalamazoo Christian 59, Martin 30
Kalamazoo Hackett 45, Decatur 22
Vicksburg 57, Mattawan 35
Gull Lake 53, Kalamazoo Loy Norrix 43
Battle Creek Lakeview 60, Portage Central 27
Kalamazoo Central 76, Battle Creek Central 22
Tonight
Boys Basketball
Buchanan at Covert, 5:30 p.m.
Girls Basketball
Edwardsburg at St. Joseph, 7:00 p.m.
Schoolcraft at Sturgis, 7:00 p.m.
Wrestling Regionals
Division 2 at Lakeshore, 5:30 p.m.        (Coldwater vs. Harper Creek) (Mattawan vs. Niles)
Division 3 at Coloma, 6:00 p.m.            (Constantine vs. Coloma) (Lake Odessa Lakewood vs. Hopkins)
Division 4 at Mendon, 6:00 p.m.           (Reading vs. Bronson) (Decatur vs. Brandywine)